Burlington 1877
What still stands from between 1869 and 1877 in Burlington, Vermont?
136-140 Church Street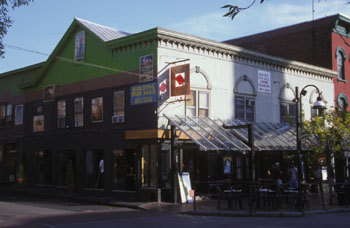 This bulding, constructed between 1869 and 1877, first appears on the 1877 Bird's-Eye-View map of Burlington at the corner of Mechanics Lane and Church Street. Its original eves-front design is still bisible from Mechanics Lane; the façade facing the street was framed circa 1885. The façade was refaced circa 1930 in an unusual Italianate design executed in stucco with applied arches above the second story windows.[1]
The earliest known commercial tenant of this structure appears in the 1881-83 Burlington City Directory as Patrick Cosgrove, a tailor who ran his shop out of 136 Church Street. Cosgrove's business appears in the 1885 directory as well. The 1885 city directory also lists William J. Russel's meat and fish market and A.G. Lucas' business selling "Clothes Reels and Ladders" at 136 Church Street. 138 Church Street was home to J.W. Daley's restaurant and tobacco store, as well as his home, and John Griffen and Son ran their plumbing and heating business out of 140 Church Street.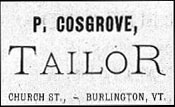 [1] Clark Schoettle. Historic Sites and Structures Survey. 140-136 Church Street, Burlington, Vermont. N.D.
Previous
Next
Return to Church Street, Elmwood Avenue, and Intervale Avenue Corridor
Return to Burlington 1877
A Research Project of the
University of Vermont Historic Preservation Program
HP 206 Reseaching Historic Structures and Sites - Prof. Thomas Visser
in cooperation with the UVM Bailey-Howe Library