Burlington 1877
What still stands from between 1869 and 1877 in Burlington, Vermont?
225 Elmwood Avenue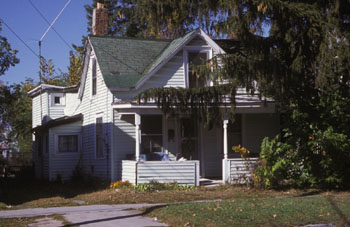 This center-gable one and one-half story house with a medium-pitched roof is a vernacular interpretation of the Gothic Revival style, built circa 1870. The front porch, not visible on the 1890 Hopkins map, was probably constructed sometime in the next decade as the turned posts point to a Queen Anne influence. Several small additions extend from the side and rear of the building. An unusually tall chimney, another indication of Gothic Revival influence still stands at the back of the main block.

Little is known of this structure's history. The first known resident at this address is listed in the 1885 Burlington City Directory as HE Lee, an employee of a pottery.

Previous
Next
Return to Church Street, Elmwood Avenue, and Intervale Avenue Corridor
Return to Burlington 1877
A Research Project of the
University of Vermont Historic Preservation Program
HP 206 Reseaching Historic Structures and Sites - Prof. Thomas Visser
in cooperation with the UVM Bailey-Howe Library