Burlington 1877
What still stands from between 1869 and 1877 in Burlington, Vermont?
215 Elmwood Avenue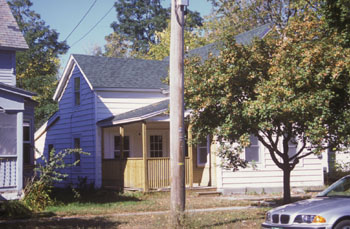 This one and one-half story cross-gable house retains its original plan, but has been completely reclad with asphalt shingles on the roof and replacement siding. The windows have also been replaced with one-over-one sashes. Three small additions expand the house toward the back of the lot. 215 Elmwood Avenue, built circa 1870-73, is typical of the housing built in this working-class neighborhood during the 1860s and 1870s.

Mrs. Charity E. Freeman, an African-Amercan woman and a widow lived in this house from at least 1881 until her death on February 5, 1890. A woman named Mary Thomas also resided here between 1881 and 1885.[1] Little else is known of this property's early history.

[1] Burlington City Directory, 1881-83, 1885, 1890.
Previous
Next
Return to Church Street, Elmwood Avenue, and Intervale Avenue Corridor
Return to Burlington 1877
A Research Project of the
University of Vermont Historic Preservation Program
HP 206 Reseaching Historic Structures and Sites - Prof. Thomas Visser
in cooperation with the UVM Bailey-Howe Library