Burlington 1877
What still stands from between 1869 and 1877 in Burlington, Vermont?
212 Elmwood Avenue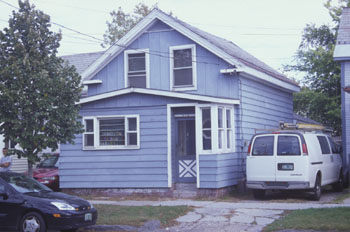 This small, one and one-half story gable front house was also constructed circa 1870 to supply worker housing during the lumber boom of the 1860s and early 1870s. Its gable-front orientation, low-pitched roof and cornice returns identify this house as a vernacular interpretation of the popular Greek Revival style. This house has a one story addition to the rear, which was probably built shortly after the construction of the main block, as it appears on the 1890 Hopkins map. The one-story, full-façade front porch has a gable roof similar to those on many Craftsman houses. This indicates that the porch was probably constructed between 1905 and 1930 and enclosed at a later date. The roof is clad in replacement asphalt shingles while aluminum siding obscures the original clapboard.

This property is another example of housing constructed for rental purposes. The 1890 Hopkins map lists names J Enright, an attorney, as the owner of this property. A plasterer, Henry Perrault, lived here between 1881 and 1885.[1] Like many other modest houses in the Old North End, little information exists regarding this structure's history.

[1] Burlington City Directory, 1881-83, 1885.
Previous
Next
Return to Church Street, Elmwood Avenue, and Intervale Avenue Corridor
Return to Burlington 1877
A Research Project of the
University of Vermont Historic Preservation Program
HP 206 Reseaching Historic Structures and Sites - Prof. Thomas Visser
in cooperation with the UVM Bailey-Howe Library