Burlington 1877
What still stands from between 1869 and 1877 in Burlington, Vermont?
196 Elmwood Avenue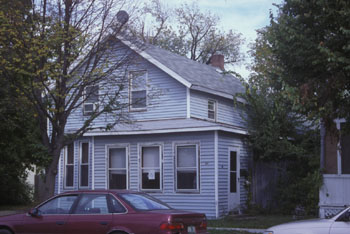 This gable-front house was built around 1870 on a block already heavily built up. This area of the Old North End contains many modest buildings similar to this one in size and shape. Its modifications are also typical: the house has several additions to the side and rear and boasts a wrapped porch, probably an 1890s Queen Anne addition, which has since been enclosed. Any stylistic details which may have existed on the exterior have been stripped or covered with vinyl siding, while the slate roof has been replaced with asphalt shingles and the original sashes also appear to have been replaced. The slightly gentler slope of the roof and the gable-front orientation indicate that the builder was probably influenced by the Greek Revival and Italianate styles popular at this time.

This property was owned by the Bacon estate in the late nineteenth century. The Bacons were a prominant family in Burlington that owned a large amount of real estate. They are also listed on the 1869 Beers Atlas map of Burlington as owning the property next door at 192 Elmwood. Sometime over the next twenty years, the family bought the two properties to the north (now 196 and 202 Elmwood Avenue), presumably for the use of family members and rental purposes. This theory is supported by the 1881-83 City Directory, which lists Mrs. Mary Bacon as primary resident of this house. Charles Muir, an employee of the Shepard and Morse lumber company lived here as well. Two years later, in 1885, the directory lists Muir as an employee of J Bacon. Abram Dion also lived at 196 Elmwood Avenue in that year.
Previous
Next
Return to Church Street, Elmwood Avenue, and Intervale Avenue Corridor
Return to Burlington 1877
A Research Project of the
University of Vermont Historic Preservation Program
HP 206 Reseaching Historic Structures and Sites - Prof. Thomas Visser
in cooperation with the UVM Bailey-Howe Library