Burlington 1877
What still stands from between 1869 and 1877 in Burlington, Vermont?
20-26 Church Street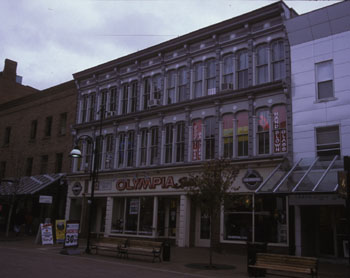 The three-story Italianate commercial block at 20-26 Church Street is an unusual wooden version of the cast-iron commercial façades popular at this time. The intention of the architect was to make the building appear as though it were built in stone, so the wooden façade was originally covered in a paint-sand mixture to give the appearance and texture of stone. The wooden columns supporting the cornice of each story were also beveled to give the appearance of carved stone blocks. The original two-over-two flattened-arch windows light the second and third stories of this block. The first floor of this building underwent a twentieth-century storefront remodeling.
This structure was designed by E. C. Ryder and built by Nelson Bacon in 1874.[1] Designed to accommodate two stores on the first floor and several apartments and commercial units on the second and third floors[2] , this building has seen many commercial and residential tenants. The earliest known tenant of this block was Fred H. Delbeck, the proprietor of a billiards hall at number 24 Church Street. Delbeck lived in an apartment at 22 Church Street and stayed at this location for several years. Other early businessman in this block were L. X. Fremau, who ran a jewelry and watch making business out of 26 Church Street, and S. Le Duc, who ran his barbershop out of 20 Church Street. Residential tenants included W.C. Davis, a carpenter who lived at 22 Church and Mrs. N.A. Garvin, a widow who is also listed at 22 Church Street.[3]
[1] David J. Blow. Historic Guide to Burlington Neighborhoods. (Burlington: Chittenden County Historical Society, 1991), 147.
[2] Adele Cramer, Historic Sites and Structures Survey, 22-24 Church Street. Burlington, Vermont. June 14, 1977.
[3] Burlington City Directory, 1881-83, 1885.

Previous
Next
Return to Church Street, Elmwood Avenue, and Intervale Avenue Corridor
Return to Burlington 1877
A Research Project of the
University of Vermont Historic Preservation Program
HP 206 Reseaching Historic Structures and Sites - Prof. Thomas Visser
in cooperation with the UVM Bailey-Howe Library