Burlington 1877
What still stands from between 1869 and 1877 in Burlington, Vermont?
31 Archibald St.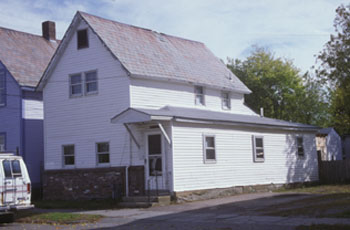 Little is known about the history of this building. It first appears on the 1877 Bird's-Eye-View map of Burlington in a group of three houses along the newly constructed Archibald Street. This two-story, gable front frame house is typical of many built in the Old North End during the lumber trade boom years of the 1860's and early 1870's. With the exception of a shed addition to the rear and the enclosure of the side porch, the plan of this house has changed little since it was built. The original clapboards have been covered with vinyl siding and the sashes are one-over-one replacements, possibly dating to the enclosure of the porch.

The first known residents of this property were Francis Belair, a carpenter, and Angelina Belair, a dressmaker, found on both the 1890 Hopkins map and in the 1890 Burlington City Directory. Their occupations are typical of residents in this late-nineteenth century working-class neighborhood.
Next
Return to Church Street, Elmwood Avenue, and Intervale Avenue Corridor
Return to Burlington 1877
A Research Project of the
University of Vermont Historic Preservation Program
HP 206 Reseaching Historic Structures and Sites - Prof. Thomas Visser
in cooperation with the UVM Bailey-Howe Library