Burlington 1877
What still stands from between 1869 and 1877 in Burlington, Vermont?
163 North Street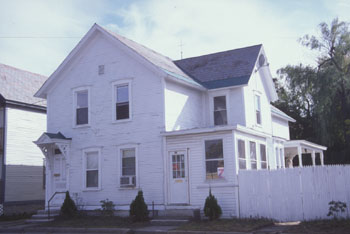 This two-story, gable-front ell house, built between 1870 and 187 7,
has several fine Italianate details, including low-peaked lintels over the windows, a peaked door hood sheltering the main door, and a bay window with segmental arch hoods over the sashes. This house retains its original clapboards and decorative slate roof. Several additions have been built on the side and to the rear of the house.

The first known occupant of this house was Peter Lander, a lumber company employee who lived at this address from the early 1880s though 1915. His son lived in this house until the 1950s.

Previous
Next
Return to Church Street, Elmwood Avenue, and Intervale Avenue Corridor
Return to Burlington 1877
A Research Project of the
University of Vermont Historic Preservation Program
HP 206 Reseaching Historic Structures and Sites - Prof. Thomas Visser
in cooperation with the UVM Bailey-Howe Library