Burlington 1877
What still stands from between 1869 and 1877 in Burlington, Vermont?
139 Maple Street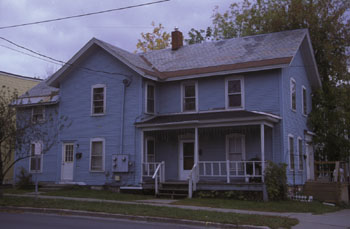 This house, constructed between 1869 and 1877 is clearly visible on the 1877 Bird's-Eye-View map of Burlington. The two-story, cross-gable house with an addition to the rear is another example of the Greek Revival/Italianate houses so popular in Burlington at this time. This house retains its original clapboard, variegated slate roof, and peaked door and window lintels. Some of the original two-over-two windows still exist, although most are replacements. The original Greek Revival door surround for the St. Paul Street side-hall entrance still exist.
The first known resident of this house is listed in the 1890 Burlington City Directory as John Ready, a hackman. There is no known record of the original occupant or owner.

Previous
Next
Return to Church Street, Elmwood Avenue, and Intervale Avenue Corridor
Return to Burlington 1877
A Research Project of the
University of Vermont Historic Preservation Program
HP 206 Reseaching Historic Structures and Sites - Prof. Thomas Visser
in cooperation with the UVM Bailey-Howe Library