Burlington 1877
What still stands from between 1869 and 1877 in Burlington, Vermont?
134 King Street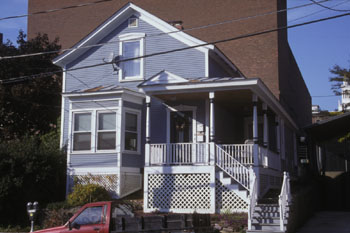 134 King Street, also constructed between 1869 and 1877, is another example of worker housing constructed for rental purposes along King Street. This Italianate structure appears much as it did on the 1877 map of Burlington, with a first story bay window to the left of the right side hall entrance. A Queen Anne porch of later construction shelters the front door. The peaked lintels, clapboards and corner boards appear original to the structure, although the sashes are one-over-one replacements.
Prior to 1900, little is known of this structure's history. James Rustin, a foreman a the Wells Richardson Company is the first known resident of this house.[1]

[1] National Register Nomination, Amendment to the Battery Street Historic District. (Montpelier: Vermont Division for Historic Preservation, 1976-78), 2.
Previous
Next
Return to Church Street, Elmwood Avenue, and Intervale Avenue Corridor
Return to Burlington 1877
A Research Project of the
University of Vermont Historic Preservation Program
HP 206 Reseaching Historic Structures and Sites - Prof. Thomas Visser
in cooperation with the UVM Bailey-Howe Library