What still stands from between 1869 and 1877 in Burlington, Vermont?
North Winooski Avenue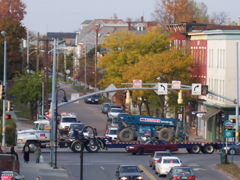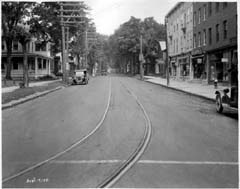 North Winooski Avenue runs north and south, beginning at Pearl Street and extending through the Old North End to Riverside Drive, or First Street in the 1870s. Prior to 1870, the southern blocks of the avenue were almost entirely developed, and the density thinned out as the street ran north. Quite a bit of development took place in the older, northern section of the avenue, as immigrants flooded in. In the 1870s, the east side of the first block after Pearl Street was primarily residential and has since been replaced by commercial blocks. Likewise, in the Old North End, near Riverside Drive, many of the original 1870s structures have been demolished for newer commercial dwellings.1 As can be seen in the above photograph, the street car lines used to run up North Winooski Avenue.