|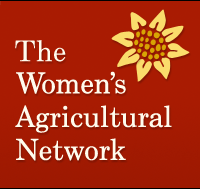 WAgN Newsletter: From the Director
January 2013
Winter is a great time for reflection
Along with seed catalogs, one of the great gifts of winter is that it can provide time to update your goals for the coming year. But before you can build new plans, you need to make room in your life. Take an hour or two to reflect on the past year. Celebrate the successes. Mourn the losses. Tally up the lessons learned. Then, release the past to free up the room you need for new ventures.
If this is a new exercise for you it might be hard to decide where to begin. Get some paper, a favorite pen, a mug of tea and make yourself comfortable. Below are some questions that can guide you but you should feel free to make your own questions, too. Give yourself permission to ponder who you are and where you've been. Initiate discussions with people you care about. Write out your thoughts and feelings. Do some journaling. Consider writing a letter to yourself. The writing could be a profound experience right now but it will also be an invaluable gift to read in the years ahead.
What have I learned in the past year? (skills, knowledge, awarenesses, etc.)

What do I feel especially good about? What was my greatest contribution?

What actions, achievements, or projects still feel incomplete to me?

What was the most significant event(s) of the year?

What were the fun things I did? What activities did I resent the most?

What would it take to put my regrets behind me?

How am I different this year than last?

For what am I particularly grateful?
The next step is to list your hopes and goals for the coming year. What do you want--experiences, knowledge, material things, relationships, healings and so on? Be specific in drafting your goals so that you can measure your progress when the time comes.
When you have a list of what you would like to accomplish then prioritize. Be tough. Most of us want to do much more than we have time for so your best chance for success will be to select 2 or 3 things that you would most like to accomplish and then draft an action plan.
Your action plan doesn't need to be fancy—it just needs to outline how you are going to get where you want to be. Are there classes that you'll need to take? Is there someone that you need to meet with? Do you need to get buy-in from others? Break your action plan into small achievable chunks, give each action a deadline, and then go for it! Then post your action plan someplace where you will see it often. When you check off an item…Celebrate!
Make 2013 your best year yet!
Mary Peabody
Director, Women's Agricultural Network
Last modified January 23 2013 10:21 AM
Contact UVM
© 2014 The University of Vermont - Burlington, VT 05405 - (802) 656-3131