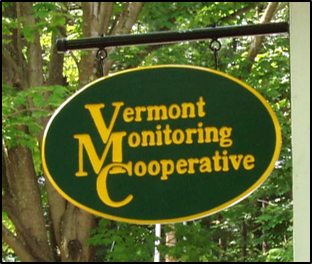 About the Vermont Monitoring Cooperative
The mission of the Vermont Monitoring Cooperative is to serve Vermont through improved understanding of long-term trends, annual conditions, and interdisciplinary relationships of the physical, chemical, and biological components of forested ecosystems in Vermont.
The VMC also promotes the efficient coordination of multi-disciplinary environmental monitoring and research activities among federal, state, university, and private-sector agencies with common interests in the long-term health, management, and protection of Vermont's forested ecosystems.
VMC works towards its mission and goals with a professional staff, web-based Project Library and Database, education and outreach programs, and continuing efforts to support and coordinate Vermont's forest ecosystem interests.
VMC History
Created in 1990 with an initial grant from US Senator Patrick Leahy, the Vermont Monitoring Cooperative is a partnership of the State of Vermont, the University of Vermont, and the USDA Forest Service that manages over three decades of Vermont's forest ecosystem data intended to benefit research, natural resource management, education, and public interest. Since its beginning, VMC has supported over 100 forest ecosystem projects on Mount Mansfield in northern Vermont and Lye Brook in southern Vermont. VMC staff also supports long-term air quality and forest health monitoring programs for Mount Mansfield and Lye Brook and three meteorological stations on Lake Champlain.
In recent years, VMC has grown to become a critical database management service and information coordinator for Vermont's long-term forest ecosystem and air quality studies. VMC continues to upgrade and modernize its database service for both numerical and spatial data, real-time data access, data quality assurance and control, and ease of use for scientific, natural resource manager, education and public interests.