Webinar
Quick Links
Recordings of Recent Webinars
Upcoming Webinars
Wednesday, April 8 at noon: Getting Started with Growing Hops. Dem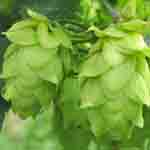 and for local brewing ingredients has increased as the demand for local products has hit the beverage industry. Farmers are finding opportunities to now grow hops and grains to supply the numerous microbreweries in Vermont. Hops, a crop that was historically grown in VT is having a renaissance of sorts. UVM Extension's Heather Darby will provide us an introductory presentation on how to get started with growing hops. This will include setting up a trellis system, soil fertility, variety selection, pest management, harvesting, and post-harvest management. Free. Register here. After registering, you will receive a confirmation email containing information about joining the webinar.
About New Farmer Project Webinars: When & How
About New Farmer Project Webinars: When & How
Vermont New Farmer Project webinars are generally about an hour long. Sometimes they are scheduled in the evening, and sometimes around noontime. All webinars are recorded and made available for viewing within a few days.
If you have Internet access and can hear sound through your computer, you should be able to participate or watch recordings regardless of the type of computer or operating system you use. A broadband connection to the Internet is helpful but not required.
Click on the title of the webinar to link to the webinar. If this is the first time you're participating in a webinar using the Blackboard Collaborate/Elluminate platform, please visit the link to your webinar a day or two earlier so that you can pre-configure your computer for webinar participation. For more information, please contact the UVM Extension New Farmer Project by e-mailing newfarmer@uvm.edu or calling 802-223-2389.
If you require accommodations to participate in a webinar, please contact Mary Peabody at least seven days before the webinar you want to participate in, so we may assist you. Call 802-223-2389 or 1-866-860-1382 (toll-free in Vt.) or email mary.peabody@uvm.edu
Recordings of past webinars are also available.
The 2014-2015 New Farmer Project webinar series is supported in part by the Vermont Agency of Agriculture and Working Lands Enterprise Board.
eOrganic Webinars
The New Farmer Project isn't the only one creating farming webinars. Learn the latest in organic farming practices and research by attending or watching an eOrganic Webinar, a project of eXtenstion. Sign up for upcoming webinars to watch slides, listen to the presenter, and type in questions during the live event. Or, watch recordings of past webinars in their webinar archive.
Entrepreneurs and their Communities
Find webinars on marketing, business development, and regulatory issues that affect farm businesses at the Entrepreneurs and their Communities section of the eXtension website. The entrepreneurship team is dedicated to effectively serving the information and educational needs of entrepreneurs and strengthening the capacity of community leaders and citizens to foster and sustain the entrepreneurial dimensions of their local economies.