Resource Guide: Vermont New Farmer Network Member Organization
New Farms for New Americans, Association of Africans Living in Vermont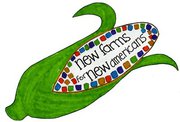 Contact Information:
72 North Champlain Street
Burlington, VT 05401
(802) 985-3106
africans.vermont@gmail.com
http://www.africansinvermont.org/
New Farms for New Americans (NFNA) serves refugees and immigrants in Northwest Vermont who want to start farm or food based businesses of any size.
The program offers classroom and one-on-one technical assistance in agricultural production, marketing, sales, vocational ESL(English as a Second Language) and business management topics. NFNA also provides participants opportunities to access land, engage in social enterprise sales managed by the program, or link to markets independently.

Finally, NFNA continues its training and technical assistance services during the growing season: on-farm and at markets/vending locations.
NFNA offers language interpretation with all its services. NFNA is a program of the Association of Africans Living in Vermont (AALV). The Intervale Center and Vermont Adult Learning the main partners of the program. Learn more about New Farms for New Americans at AALV's website: http://www.africansinvermont.org, or on its New Farms for New Americans Facebook page.
Last modified October 10 2011 01:18 PM