Classes: Holistic Whole Farm Planning for Beginning Farmers
For people with two to 10 years in business.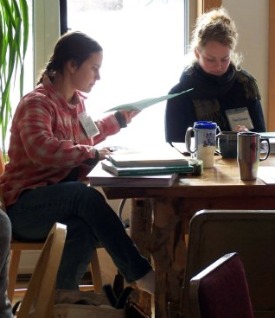 Where: Belknap County, NH and White River Junction, VT (Same program at two locations)
Dates: Mid-January - February 2016 (7 sessions)
Time: 9:30 am-3:30 pm
Fees: $150 per person or $200 per farm. Partical and full scholarships are available with a scholarship application.
For more information and to obtain an application, email Seth Wilner or call 603-863-9200.
Join other new farmers for support and camaraderie learning about whole farm planning. The course will be designed for multiple partipants from the same farm to attend and work together during the sessions.
This course is a collaborative effort between UNH Cooperative Extension, University of Vermont Cooperative Extension, and Holistic Management International. The course is for farmers who are in the first 10 years of farming. It is most effective for farmers who have been in production for at least a year or two. This course focuses on whole farm planning using the Holistic Management process. Participants will meet for seven sessions on topics that include goal setting; time management; financial, business, and marketing planning, and communication and leadership on farms. It will be an interactive class that supports participants to complete a whole farm plan by the conclusion of the course.
To request a disability-related accommodation to participate in this program, please contact Beth Holtzman at 802-223-2389 by December 1, 2015
Last modified August 10 2015 10:28 PM