NSF/UVM Community Cosmogenic Facility (CCF)
Lab History
Cosmogenic Nuclide Geology at UVM is entering its fourth laboratory. It all started in 1993, when we moved into a lab that pre-existed Paul's arrival at UVM. The lab had two metal fume hoods, lined with asbestos, and a perchloric washdown system that was nothing more than a pipe emptying into the duct. With help from
Skip Delcos
and
Jill Turner
, we scraped, painted, and created a clean water system using home RO units (
Thanks Vermont Water Treatment!
) Here's the one remaining picture of the original lab with its antique centrifuge, spray-painted cabinets, home-made vented column box, and recycled DI unit. The place worked. We made data and published papers even if an occasional fly landed in our beakers (there was no make up air system).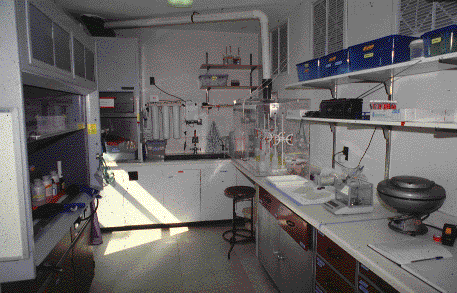 The original cosmogenic nuclide extraction lab in Perkins Hall, c. 1995.
In 1996, we landed three NSF grants in as many months and Tom Tritton, UVM Provost at the time, genorously provided funding for a modest renovation of the lab. Over the course of Paul's pre-tenure leave, the lab was gutted and three fully exhausting laminar flow hoods were installed along with a make-up air system that supplied about half of what the hoods exhausted. The project couldn't support air conditioning so we didn't work much on summer afternoons (your goggles would fog). You can see a
1997 vintage web page
about this renovation.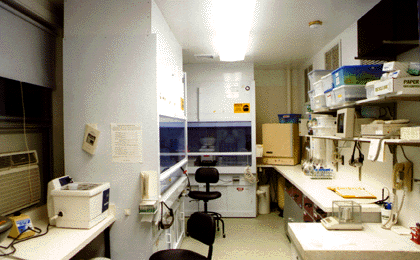 The renovated, second generation cosmogenic nuclide extraction lab in Perkins Hall, c. 1998.
Oh, and let's not forget quartz making in Perkins Hall. WIth two "fume hoods" crafted out of plywood by UVM Physical Plant (they had storm windows for sashes) and more home-made clean water systems, we purified over 2000 quartz samples. Of course we spilled an awful lot of clean water on the floor too. Who didn't forget to turn off the tap while refilling those jugs? And then, the memories of the acid neutralizing buckets!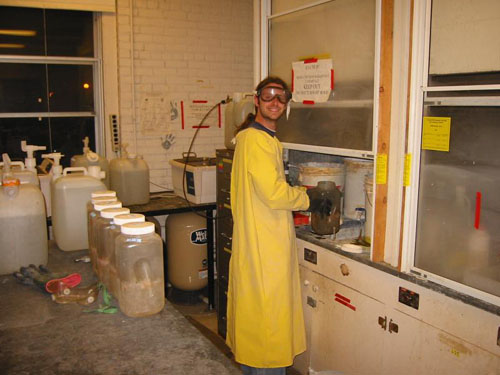 Luke Reusser making quartz in Perkins Hall, c. 2002. This quartz would date Susquehanna River incision land him papers in Science and the American Journal of Science.
In June 2004, the Perkins lab was demolished, the hoods were salvaged for use in another Geology lab, and we were scheduled for an August move into a new space in Delehanty Hall on the recently acquired Trinty Campus of UVM. Delays with fume hood delivery and difficulties in configuring the control systems and balancing the hoods so they would pass ASHRAE 110 tests, kept us out of the lab until December 2005. We finally moved in and set to processing samples in a spatious, air condidtioned, clean air lab with plenty of counter space and two large windows. Here is one
Quicktime VR pan
of the Delehanty Lab in 2005 and another
Quicktime VR pan
from a different angle.


The first cosmogenic nuclide extraction lab in Delehanty Hall, c. 2005 before we moved in lab equipment.
We worked double time for almost a year, until we discovered that a re-roofing job during the summer of 2006 had filled the air supply ducts and
loaded the laminar flow hood ULPA supply filters
with boron-bearing insulation. You can read about the whole
boron story
in detail. After spending months cleaning up, we started processing samples again in May 2007. Within several days, an
electrical fire
in and around the washing hood destroyed that hood, covered the lab in soot, set off three sprinklers, and totaled everything in the lab. .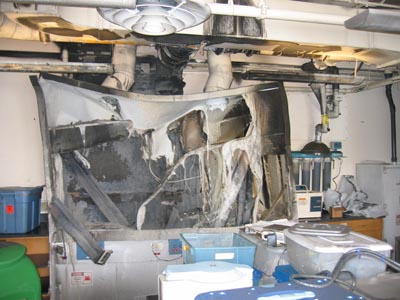 The burned washing hood in Delehanty Hall, early June 2007 before demolition.
Thanks to the diligence of an excellent UVM project management team (Myron Wheeler and Mike Stevens) as well as the deep and continual support of the UVM Administration (Provost Hughes, Vice President Carr, and Associate Vice President Dummitt) and the diligence of UVM RIsk Management, the cosmogenic nuclide lab has risen from the ashes.
Last modified June 23 2009 05:34 AM