Welcome from the Dean

Fall has arrived and despite the unseasonably warm temperatures recently, dwindling daylight can only mean one thing: winter is on its way! It is hard to believe that we are fast approaching the end of the fall term. Midterms have passed and students are working hard to finish strong. Read more.
Top News
St. Louis and Hammond Receive Top Staff Awards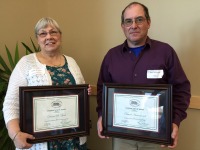 Dave Hammond, the Physics Department's scientific electronics technician, was chosen to receive the Award for Superior Technical Support. Diana St. Louis, administrative assistant in the Department of Psychological Science, received the Award for Superior Administrative Support. Learn more.
CAS Receives $1 Million from Eugene and Joan Kalkin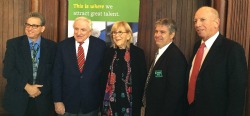 On Friday, October 2, Interim Dean Bill Falls was pleased to announce that the College of Arts and Sciences was the recipient of a $1 million gift from Eugene and Joan Kalkin to support an endowed professorship in Jewish Studies. Read more.
UVM Chemistry Team Invents New Technique for Controlling Molecular Shape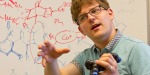 University of Vermont chemist Severin Schneebeli has invented a new way to use chirality to make a wrench. A nanoscale wrench. His team's discovery allows them to precisely control nanoscale shapes and holds promise as a highly accurate and fast method of creating customized molecules. Read more.
In the Language Resource Center, Le Concombre Translates to Success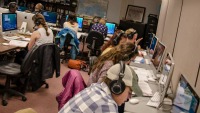 On most Fridays during the fall semester students in Marielle Macias' French 2 (Elementary II) class can be found conversing in the Language Resource Center (LRC) in Southwick Hall. Marielle is a lecturer in the Romance Languages and Linguistics Department, and her students come to the LRC to practice language with a newly acquired program called DiLL, which is short for Digital Language Lab. Read more.
eNEWS is produced by the College of Arts and Sciences. Please feel free to email us at: Craig.Wells@uvm.edu. If you do not wish to receive further emails from UVM's College of Arts and Sciences, please click here to unsubscribe.