Welcome from the Dean

A few short weeks ago UVM held its 215th commencement exercises. In the College we recognized the achievements of many of our graduating seniors at our annual senior awards ceremony and celebrated the awarding of over 800 bachelors' degrees across our 26 majors and programs. It was an outstanding weekend filled with joy and hope for the future. Read more.
Top News
CAS Awards Ceremony and Commencement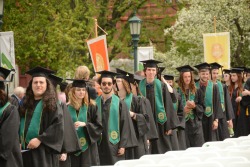 The College celebrated the graduating class of 2016 with back-to-back ceremonies, recognizing academic achievement and the handing out of diplomas. Read more.
Alumni Spotlight: On a Whim, Teaching in China

Recently we heard from Kinsey Hotchkiss, Class of 2014, about her experiences teaching in rural China and traveling all over Asia. Now, as she makes plans to return to the United States and go to business school, Kinsey shares her memories of her time at UVM and how it changed her life. Read more.
Students Launch Prison Debate Program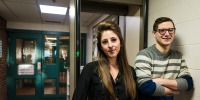 Senior Luke Dodge was feeling nervous as he walked through the halls of the Eastern New York Correctional Facility. He was on his way to a room filled with 75 prisoners – to debate four of their fellow inmates. Dodge had participated in dozens of debates as a member of UVM's Lawrence Debate Union, but none of them were as intimidating, moving, and ultimately life-changing as this one. Read more.
Stars of the Seashore Under Threat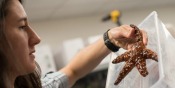 Scattered in tide pools, sea stars draw us out to the coastline to glimpse the life thriving just along the edge of our terrestrial world — their distinctive profiles, iconic symbols of the ocean beyond. But on the North American west coast, they don't offer such a pretty picture. Many of these familiar creatures have gotten so sick that they will "turn to goo and die." That blunt prognosis is in the words of Melissa Pespeni, UVM assistant professor of biology. Read more.
eNEWS is produced by the College of Arts and Sciences. Please feel free to email us at: Craig.Wells@uvm.edu. If you do not wish to receive further emails from UVM's College of Arts and Sciences, please click here to unsubscribe.