Department of Art & Art History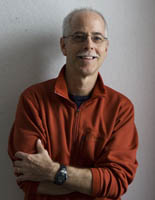 Groundhog Day just passed and we were greeted with a two-day snowfall, making us feel intrepid in just getting to school. It's still frigid outside, but inside Williams Hall things are sizzling as students ramp up their work in the studios and lecture rooms. Spring Semester is always robust, with the Studio Art prize competitions, the Art History Student Symposium, Graduate School Seminars, the Senior Exhibition and, this year, position searches in 19th century Art History and Painting.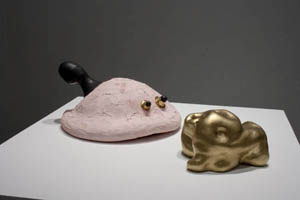 In the Colburn Gallery we opened the semester with "Talk With Your Mouth Full," an exhibition of ceramic sculptures by Nick Earl. Nick is a senior Studio Art major and Art History minor, and over the past few years he has logged more time than anyone else in the clay studio. About his work, Nick states, "I try my best to place humor and sensuality at the forefront in my work. A lot of the pieces in the show came out of experimentation with non-traditional surfaces in the ceramic field including rubber, gold, paint, and epoxies. My work is equally informed by my interest in the vast multicultural history of ceramics as well as my interest in absurdity, imagination, and kitsch." The photo above is of a 2010 work by Nick called "Untitled" Glazed Ceramic w/ Gold and Paint.
The same night as Nick's opening we hosted a lecture by Gregory Volk, who writes for "Art in America" and is an associate professor at Virginia Commonwealth University. Volk presented the work of four contemporary artists (Katharina Grosse, Roman Signer, Francis Alys, and Ayse Erkmen) under the rubric of Ralph Waldo Emerson's 1844 essay, "The Poet." Volk's lecture, like Emerson's essay, was exuberant. He likened these contemporary artists to Emerson's ideal of the poet, the one who "stands one step nearer to things, and sees the flowing of metamorphosis…" As with Emerson's poet, Volk admired these artists for making art that goes well beyond technical mastery, "for it is not metres, but a metre-making argument, that makes a poem,-- a thought so passionate and alive, that, like the spirit of a plant or an animal, it has an architecture of its own, and adorns nature with a new thing."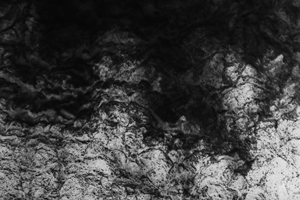 The show currently in the Colburn is "IJII", a series of abstract inkjet photographs by Ben Weis. Ben is a senior Studio Art major and a double minor in Art History and Philosophy. According to Ben, the initial catalyst for making photographs was Jean-Paul Sartre's The Imaginary. "[Sartre's] work permeated my perspective regarding the correlation between imagination and reality. With his work and my reactions on the forefront of thoughts, I began photographing in a manner that reflected this way of thinking." The photo on the right is of a work by Ben called "Untitled" Archival Pigment Print, 22"X17" ©2010 Ben Weis.
It has been a very productive academic year for our faculty with major publications, grants and exhibitions abound. But the most significant event took place at the end of the fall semester when Frank Owen, beloved Professor of Painting, taught his last class. Frank has since "retired" to his studio in the Adirondacks but his energetic paintings are anything but retiring. Frank's return to full-time painting was buoyed by a $150,000 grant from the Analee and Barnett Newman Foundation, awarded to him for "artistic achievement." That is landing on your feet.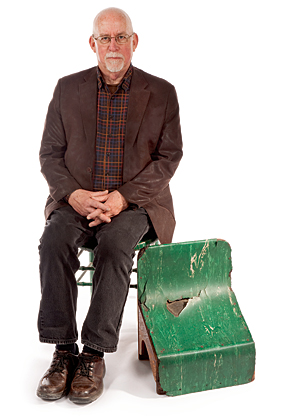 If you missed it, there is a wonderful interview with Frank in the Summer 2010 issue of "Vermont Quarterly." Included in the article are testimonials from Frank's students. Here are a few:
"Frank was truly a mentor in terms of my identity as an artist. He helped to foster my confidence as a painter, and taught me to approach my art through constant investigation of materials and ideas. Frank's endless enthusiasm and energy never failed to accompany him into the classroom." —Kate Davis Caldwell '98
"Frank instilled notions of the artist as 'hunter/gatherer,' with his Archival Binder Assignment, which was supposed to be a semester-long collection of images, influences, and responses. This binder, which was the most exciting tool for me to build, has been the most helpful way for me to prepare for installations and new projects, and it shows a timeline of my creative interests. My collection of binders has grown to a complete seven volumes—which Frank predicted." —Emily Wilson '08
"Frank is the expert in paint-splattering, -dripping and -peeling; the king of snappy quips, a connoisseur of campus street food, master collector of plastic animals, and my go-to man for sage advice. One look at Frank's canvasses reveals his incredible exuberance. It's something I try to emulate in everything I do." —Grace Weaver '11
"Frank loves to share quotes in class and I remember one in particular which we discussed. It was a passage from "The Builders," a poem by Henry Wadsworth Longfellow: 'In the elder days of Art, Builders wrought with greatest care, Each minute and unseen part; For the Gods see everywhere.' I would say Frank is of a mentality where if you want something, you should do it yourself —a school of thought that isn't shared by most of today's generation. And I think this quote exemplifies Frank's commitment to that work ethic. As both an artist and educator, Frank is invested in all aspects of what he's doing. Whether it's making his own work or having a discussion with students, Frank's enthusiasm is genuine." —Nicolas Holiber '07
Staff News:
We are delighted to report that Simone Blaise gave birth to a lovely girl, Vanessa Autumn, on November 18.
Faculty News:
Art Education:
Chris Campbell reports that the Art Ed students who have been engaged in student teaching internships at area public schools are gearing up for the annual Art Education exhibition in the Colburn Gallery. The show brings K-12 student artists and their parents to UVM to see the kids' artwork hung in a gallery setting, and it gives other UVM students an opportunity to view what is currently going on in art in the public schools.
Art History:
Kelley Helmstutler Di Dio's book, Leone Leoni and the Status of the Artist at the End of the Renaissance, was published by Ashgate Press in January. Kelley was awarded a Lattie Coor Grant in the fall to work on her new book project, Sculpture Collections in Early Modern Spain, for which she and her collaborator Rosario Coppel Aréizaga have a contract with Centro Estudios Europa Hispanica, Madrid. Anthony Grudin will be co-chairing a panel, "Pop, Race, Class: Consumption & Contradictions" at the College Art Association Annual Conference in New York City, February 9-12. Anthony also recently published "'A Sign of Good Taste': Andy Warhol and the Rise of Brand Image Advertising," in the Oxford Art Journal 33.2 (2010). Bill Mierse's manuscript, "Temples and Sanctuaries from the Early Iron Age Levant, Recovery after Collapse" was accepted by Eisenbrauns Press, with a publication date in 2012. John Seyller published an article, "Two Mughal Mirror Cases," in Journal of the David Collection, vol. 3: 130-159. He also completed, with contributions by Konrad Seitz, The Eva and Konrad Seitz Colllection of Indian Miniatures: Mughal and Deccani Paintings. That book serves as the catalogue of an exhibition, "Dazzling Visions: Indian Paintings from the Seitz Collection," on view at the Museum Rietberg, Zurich, from November 30, 2010 to April 10, 2011. John has six essays in Masters of Indian Painting, a two-volume publication accompanying an exhibition that will open at the Museum Rietberg on April 30, 2011 and will travel to the Metropolitan Museum of Art, New York.
Studio Art:
Mildred Beltré has an exhibition of prints, "From Here to There" at the Salena Gallery, Long Island University from January 8-February 25, 2011. She also is exhibiting "Trio: Balance, Transform, Strata" at the Freedman Gallery, Center for the Arts, Albright College from January 26 - March 11, 2011. Tom Brennan has an exhibition of photographs, "Collect and Display: Photogenic Drawings of Birds from Natural History Collections" at the John Michael Kohler Art Center in Sheboygan, WI from January 16 - April 18. Tom's new website is www.tbrennanart.com. Steve Budington had an exhibition of paintings, drawings, and sculpture "Homunculus" at the Firehouse Gallery from October 29 - January 1. Steve's work can be found at www.stevebudington.com. Kat Clear is the winner of the ninth annual Barbara Smail Award, a $1,000 grant that comes with access to all Burlington City Arts facilities for a year. Cami Davis and Shelley Warren have a two-person exhibition, "108 Blessings," at 215 College Gallery, Burlington, opening on February 11. The title refers to the number of prayer beads used in Buddhist, Hindu, and Jain meditation traditions. Nancy Dwyer is on sabbatical for the year. She was profiled in the November issue of Art New England. You can see Nancy's new work at www.nancydwyer.com. Jane Kent is also on sabbatical. She has just finished Skating, an artist book on which she collaborated with the writer Richard Ford. It will be published by Greenfell Press in 2011. Jane exhibited in "The Greenfell Press—30 Years of Collaboration" at the Knoedler Project Space from Nov. 18 - Dec. 30, 2010. Tarrah Krajnak's show, "Tarrah Krajnak & Wilka Roig (untitled #)" was exhibited at Depauw University in Indiana from October 27- December 10, and her photography exhibition, "Inch of Dust" ran at the Firehouse Gallery from October 1 – December 11. Tarrah's work can be seen at www.tarrahkrajnak.com. Bill McDowell has an exhibition of photographs opening February 14 at the University of Notre Dame, in Notre Dame, IN. He will also have an exhibition at the Firehouse Gallery, opening March 29. Bill has a new website: www.billmcdowellphoto.com. Lynda McIntyre is on sabbatical and she will leave February 12 for Cuba to pursue a connection with art education programming in conjunction with the Ludwig Foundation. Frank Owen had a solo show of paintings, "Raft," at the Nancy Hoffman Gallery in NYC from October 21 - December 7. Frank also took part in the exhibition, "Fresh Hell" at the Palais De Tokyo, in Paris from October 10 - January 16. Kathleen Schneider is currently exhibiting recent sculptures in "Force Field" with Ed Lederman at the Suchman-Bart-Metheney Gallery, in NYC. The show runs from January 27 - February 19.
Please take a look at our online student gallery on our departmental website, www.uvm.edu/~artdept/, and to our alums, stay in touch.
Bill McDowell
Chair
Department of Art & Art History