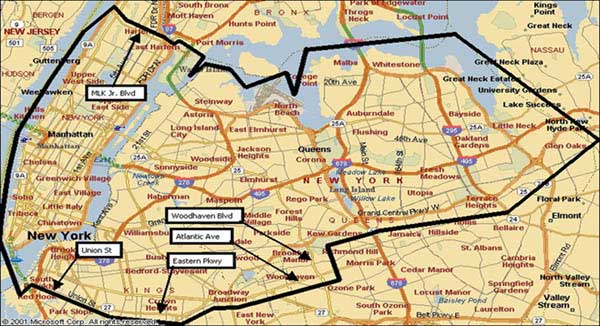 The Manhattan infestation was discovered in August of 1999 at a private playground where 30 trees were eventually removed as part of the eradication effort. Several small pockets of infestation were discovered in the lower east side of Manhattan during the spring and the summer of 2000 leading to the removal of 52 additional trees. This infestation forced removal of a tree shading the grave of Peter Stuyvesant (1610-1672) at the historic St. Mark's-in-the-Bouwerie Church. Stuyvesant was the last Dutch director-general of New Netherland before surrender to the English in 1664.
The Queens infestation was discovered in the summer of 2000 and forced the removal of 24 trees including a number of trees at the Flushing Zoo. This infestation will eventually connect the Manhattan and Bayside quarantine zones.
Areas of Brooklyn, Queens, and Manhattan in the City of New York and bounded by a line beginning where the Brooklyn Battery Tunnel intersects the Manhattan shoreline of the East River, west and north along the shoreline of the Hudson River to Martin Luther King Jr. Blvd., east along Martin Luther King Jr. Blvd. and across the Triborough Bridge to the west shoreline of Randall's and Ward's Island, east and south along the shoreline of Randall's and Ward Island to the Triborough Bridge, east along the Triborough Bridge to the Queens shoreline, north and east along the Queens shoreline to New York City and Nassau Co. line, southeast along this line to Grand Central Parkway, west along the Grand Central Parkway to Jackie Robinson Parkway, west along the Jackie Robinson Parkway to Woodhaven Blvd., south along Woodhaven Blvd., to Atlantic Ave., west along Atlantic Ave. to Eastern Parkway Ext., south and west along the Eastern Parkway Ext. and Eastern Parkway to Grand Army Plaza, west along the south side of Grand Army Plaza to Union St., west along Union St. to Van Brunt St., south along Van Brunt St. to Hamilton Ave. and the Brooklyn Battery Tunnel, north along Hamilton Ave. and the Brooklyn Battery Tunnel to the East River, north along the Brooklyn Battery Tunnel across the East River to the point of beginning.