Presenters and Speakers
Keynote Speaker: Dr. Beverly Guy-Sheftall
Presenters and Speakers: Dr. Angela E. Batista | Dr. Lesley-Ann Dupigny-Giroux | Dr. Wanda Heading-Grant | Dr. Jinny Huh
Kate Jerman MPH | Wendy Koenig J.D. | Dr. Nancy Mathews | Dr. Abigail McGowan
Melissa Murray | Dr. David Nestor | Nevien Shaabneh
Keynote Speaker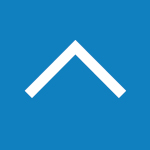 Dr. Beverly Guy-Sheftall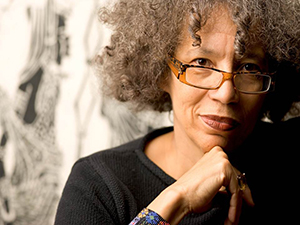 Dr. Beverly Guy-Sheftall, Ph.D., is founding director of the Women's Research and Resource Center (since 1981) and Anna Julia Cooper Professor of Women's Studies at Spelman College. She was for many years an adjunct professor at Emory University's Institute for Women's Studies where she taught graduate courses in their doctoral program.
At the age of sixteen, Guy-Sheftall entered Spelman College where she majored in English and minored in secondary education. After graduation with honors, she attended Wellesley College for a fifth year of study in English. After a year at Wellesley, she entered Atlanta University to pursue a master's degree in English. Her thesis was entitled "Faulkner's Treatment of Women in His Major Novels." A year later Guy-Sheftall began her first teaching job in the Department of English at Alabama State University in Montgomery, Alabama. In 1971 she returned to her alma mater, Spelman College, and joined the English Department.
Guy-Sheftall has published a number of texts within African American and Women's Studies which include the first anthology on Black women's literature, Sturdy Black Bridges: Visions of Black Women in Literature (Doubleday, 1979), which she coedited with Roseann P. Bell and Bettye Parker Smith; her dissertation, Daughters of Sorrow: Attitudes Toward Black Women, 1880-1920 (Carlson, 1991); and Words of Fire: An Anthology of African American Feminist Thought (New Press, 1995). Additional anthologies include Traps: African American Men on Gender and Sexuality (Indiana University Press, 2001), co-edited with Rudolph P. Byrd; I Am Your Sister: Collected and Unpublished Writings of Audre Lorde (Oxford University Press, 2009), with Rudolph P. Byrd and Johnnetta Betsch Cole; and Still Brave: The Evolution of Black Women's Studies (Feminist Press, 2009), co-edited with Stanlie James and Frances Smith Foster. She has also completed with Johnnetta Betsch Cole a monograph, Gender Talk: The Struggle for Equality in African American Communities, which was published by Random House in February 2003, and Who Should Be First?: Feminists Speak Out on the 2008 Presidential Election (SUNY Press, 2010). In 1983 she became founding editor of Sage: A Scholarly Journal on Black Women which was devoted exclusively to the experiences of African descent. Guy-Sheftall is the recipient of numerous fellowships and awards, among them a National Kellogg Fellowship; a Woodrow Wilson Fellowship for dissertations in Women's Studies; and Spelman's Presidential Faculty Award for outstanding scholarship. She has been involved with the national women's studies movement since its inception and provided leadership for the establishment of the first women's studies major at a historically Black college. She is also past president of the National Women's Studies Association (NWSA). Beyond the academy, she has been involved in a number of advocacy organizations which include the National Black Women's Health Project, the National Council for Research on Women, and the National Coalition of 100 Black Women, on whose boards she serves. In her role as Director of Spelman's Women's Center, she has also been involved with the development of student activism around misogynist images of Black women in hip hop as well as a broad range of social justice issues, including reproductive rights and violence against women. She teaches women's studies courses, including feminist theory and global Black feminisms.
Presenters
Dr. Angela E. Batista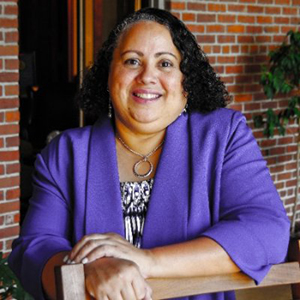 Dr. Angela E. Batista currently serves as Interim Vice President of Student Life and Special Assistant to the President for Diversity and Inclusion at Champlain College. Prior to her current position, Dr. Batista served as Interim Chief Diversity Officer and Associate Vice Provost for Student Affairs and Dean of Student Life at Oregon State University. She also served as Dean of Students at the University of Southern Indiana and has held various positions at the University of Vermont, Lynn University, and Mills College.
Dr. Batista has also worked as a high school teacher, counselor and administrator, serving as Foreign Language Department Chair and directing a high school English Language Learners' Program in South Florida. She has received several honors, including being named as Teacher of the Year, the Diversity Awareness Thoughtfulness and Courage Award and the creation of the Dr. Angela E. Batista Social Justice Award -- awarded to deserving students at the University of Vermont every spring since 1999. Dr. Batista was the recipient of the 2013 NASPA Latino/a Knowledge Community Administrator of the Year Award. She was also selected by students at the University of Southern Indiana to receive the 2015 Spirit of the Eagle Award in Senior Administration.
She actively serves as a national and international consultant and is engaged in national professional organizations. Her national service includes leadership roles in various organizations including serving as an executive officer on the Executive Committee of the Latino Caucus for the National Conference on Race and Ethnicity in Higher Education (NCORE) and various leadership roles in Student Affairs Administrators in Higher Education association, also known as NASPA. Dr. Batista was the national Vice Chair and Chair for the NASPA Latinx/a/o Knowledge Community, a member of NASPA's Equity and Inclusion Commission, the 2016 National Conference Leadership and Planning Team, and faculty for the NASPA Dungy Leadership Institute (DLI) and Escaleras Latinx/a/o professional institute, which she will co-direct for 2018. She also supported the development of the Latin American and the Caribbean (NASPA LAC) area that encompasses 41 countries. She is the lead editor of the book "Latinx/a/o in Higher Education: Exploring Identity, Pathways and Success" scheduled for release in 2018.
Dr. Batista earned her doctorate in Leadership from Nova Southeastern University and her master's degree from the University of Vermont. Her undergraduate work was completed at Brooklyn College in New York City.
Dr. Lesley-Ann Dupigny-Giroux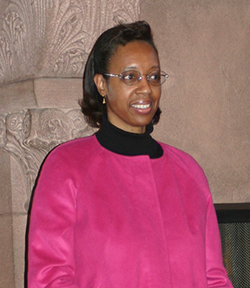 Dr. Lesley-Ann Dupigny-Giroux is a climatologist who uses a variety of mixed methods from statistics and historical content analysis to remotely sensed data, to explore the influence of atmospheric processes on fluvial processes and vegetated landscapes. Her work spans a number of climate hazards and severe weather, with a special focus on flooding and droughts. As the State Climatologist for Vermont, she also engages directly with community groups, K-12 schools, State legislators, Federal and State agencies, and national climate organizations. Nationally, she is the lead author for the Northeast Chapter of the Fourth National Climate Assessment of the US Global Change Research Program. She also serves on the NOAA Science Advisory Board Climate Working Group helping to guide climate research across the US. Through the NOAA PACE Postdoctoral Fellowships Program, she and Associate Professor Shelly Rayback worked with Dr. Evan Oswald (2013-2015) on Vermont State Agency-driven research on how a changing climate will influence air quality, human health and the health and management of Vermont's forests. Statewide, she works closely with the Vermont Department of Emergency Management and Homeland Security on the climatology content sections of the FEMA-mandated Vermont State Hazard Mitigation Plan. Her varied experiences and research foci make her a much-sought after keynote speaker. These culminated in her being a Scholar-in-Residence for the Sustainability Graduate Institute at Goddard College in 2014, and their Commencement Speaker in Spring 2015.
Dr. Wanda Heading-Grant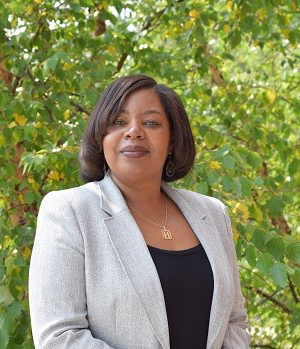 Dr. Wanda Heading-Grant is the Vice President for Human Resources, Diversity and Multicultural Affairs. As Vice President for Human Resources, Diversity and Multicultural Affairs at the University of Vermont (UVM), Dr. Heading-Grant is responsible for units that provide University-wide diversity and equity programs, recruitment and employment services, benefits, professional development, employee and labor relations, and compensation and classification. She also holds a faculty appointment in the UVM Department of Social Work and is a member of the graduate faculty.
Dr. Heading-Grant has held several positions at UVM, including that of Chief Diversity Officer and Special Assistant to the President for Multicultural Initiatives from 2010 to 2013, and Associate Provost for Multicultural Affairs and Academic Initiatives from 2006 to 2010. She served as Associate Dean in the College of Education and Social Services from 2003 to 2006, following ten years as Executive Director of the Office of Affirmative Action and Equal Opportunity. Dr. Heading-Grant earned a B.A in Social Work from the University of Vermont, an MSW from Adelphi University, and an Ed.D. in Leadership and Policy Studies from the University of Vermont. Additionally, she is a graduate of Harvard Graduate School of Education's Institute for Educational Management.
She has received the City of Burlington's MLK Service Award, the United Way of Chittenden County Community Impact Award, the Vermont Women in Higher Education Sister Elizabeth Candon Distinguished Service Award, and in 2014 was a recipient of the Diversity Visionary Award from INSIGHT Into Diversity magazine. Her leadership and work helped the University of Vermont secure the Higher Education Excellence in Diversity (HEED) Award for 2014 and 2015. Dr. Heading-Grant currently serves on the Vermont State Advisory Committee to the U.S. Commission of Civil Rights, the Flynn Center for the Performing Arts Board of Directors, and is a member of the Women's Leadership Council of the United Way Chittenden County. Most recently Dr. Heading-Grant co-edited the book Theory to Practice: Fostering Diverse and Inclusive Campus Environments.
Dr. Jinny Huh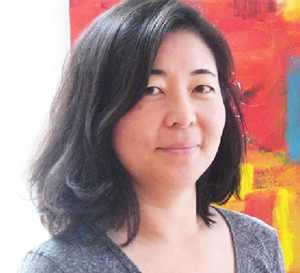 Dr. Jinny Huh is Associate Professor of English and the Director of the Critical Race and Ethnic Studies (CRES) Program at UVM. She is also the inaugural Faculty Fellow of Diversity in the College of Arts & Sciences. Her research interests include comparative race studies (particularly African American and Asian American Studies), detective fiction, genre studies, and popular culture. Dr. Huh received her PhD from the University of Southern California and was a Postdoctoral Fellow at the Institute of American Cultures/Bunche Center for African American Studies at UCLA. Since arriving at UVM in 2006, Dr. Huh has served on several committees focusing on faculty of color recruitment and retention.
Kate Jerman MPH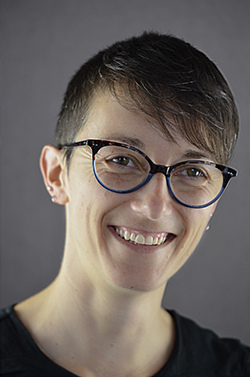 Kate Jerman joined the UVM LGBTQA Center as Director in July 2017. Her career thus far has focused on building communities where all people thrive, health equity, and liberation for queer and trans people. Kate holds a Bachelor's in Social Work from New York University and a Master's in Public Health from Columbia University. Before coming to UVM, Kate was the Assistant Director of the Center of Excellence in Maternal Child Health at the University of California, Berkeley and led and supported many social justice and diversity initiatives across campus. Her commitment to community organizing and activism started locally and early; she was a founding member of the Vermont Pride Center, and the LGBT theme housing program at UVM; coordinator of the first Transgender Day of Remembrance observances in Vermont; and organized for several LGBT community policy initiatives at the statehouse and with the Vermont Department of Education. She believes in finding new inspiration every day to fight for a world in which everyone can achieve their fullest potential.
Wendy Koenig J.D.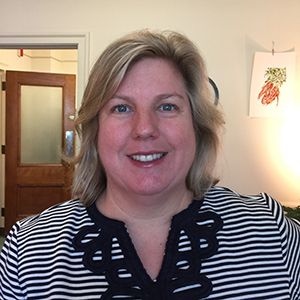 Wendy Koenig has a broad range of experience relating to higher education, politics and business. She began her career in Washington, DC, working for a grass-roots lobbying firm on defense appropriations issues. Over the course of her career, she has worked for a higher education search and consulting firm, opened a flag-ship office for a new media company in New York City and moved to Vermont in 2001 to head up the Association of Vermont Independent Colleges. While there, she served her 18 member colleges by lobbying on the state and federal levels, coordinating joint academic programs and professional development activities, and procuring grants and federal funds. In July 2008, she joined the staff of the Office of University Relations at UVM, and currently serves as the Director of Federal and State Relations.
Ms. Koenig has served on a number of non-profit boards including, The Girl Scout Council of Vermont, The Vermont Teacher Diversity Scholarship Program and is The Secretary of the Board of Trustees at Sterling College. Wendy enjoys sailing and biking with her partner, Greg Tomczyk. During the long winter, you can find her baking or reading historical fiction.
Dr. Nancy Mathews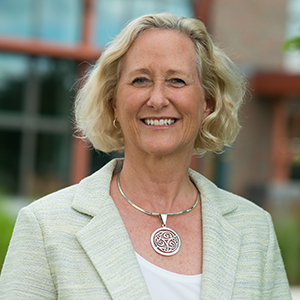 Dr. Nancy Mathews leads the Rubenstein School of Environment and Natural Resources at the University of Vermont, serving as its dean since 2014. Previous to this position, Dean Mathews spent nearly 20 years as professor of Wildlife Ecology and Environmental Studies at the University of Wisconsin-Madison. She served as Director of the Morgridge Center for Public Service from 2010-2014, chair of the Conservation Biology and Sustainable Development program from 2009-2010, and director of the 10-yr Reaccreditation for the University from 2007-2009. Prior to her move to UW-Madison in 1995, she served as the Assistant Unit Leader for the USGS Texas Cooperative Fish and Wildlife Research Unit at Texas Tech University. Dr. Mathews received her B.S. in biology from Penn State in 1980, and her M.S. in 1982 and Ph.D. in 1989, from SUNY- College of Environmental Science and Forestry. Dr. Mathews has published widely in the field of wildlife ecology and specializes in conservation biology and animal behavior. In addition to her administrative leadership, she served on the board of directors of the International Crane Foundation for nine years, as an elected Trustee to the Higher Learning Commission, and as a Fellow in the CIC Academic Leadership Program.
Dr. Abigail McGowan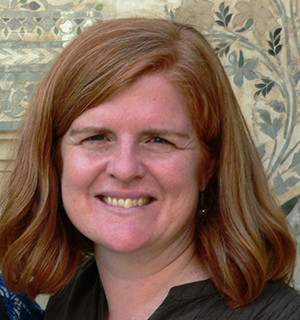 Dr. Abigail McGowan first came to UVM in 2004 and now serves Associate Professor of History and Associate Dean of the College of Arts and Sciences (CAS). Her research focuses on South Asian visual and material culture; her most recent work exploring new ideals of home in late colonial India has appeared in the journals Modern Asian Studies, South Asia and the Journal of the Society of Architectural Historians. While at UVM she has been served in a number of leadership roles, including Chair of the President's Commission on the Status of Women, Graduate Director for History, Director of Strategic Action Plans in CAS, and most recently Associate Dean of CAS. Within CAS, she helps lead efforts related to curricular development, digital humanities, study abroad initiatives, the first year experience, and diversity.
Melissa Murray
Melissa Murray oversees all of the activities at the UVM Women's Center and works to develop and uphold its vision and mission. Melissa has worked in a variety of social justice movements, including anti-violence, racial justice, reproductive health, and queer and trans rights. Melissa holds a BA in Women and Gender Studies and a Masters in Social Work, both from Ohio State University. Before coming to UVM in March 2017, Melissa spent seven years as the Executive Director of Outright Vermont.
Dr. David Nestor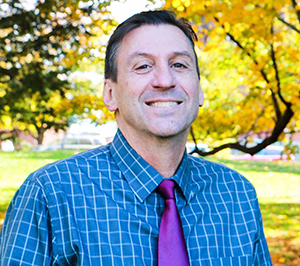 Dr. David Nestor has served as the Dean of Students at the University of Vermont since 2000. David is responsible for various administrative units and functions within the Division of Student Affairs that focus on student conduct, students-at-risk, and institutional policy specific to students. In addition, he shares leadership responsibility for planning and budgeting for the Division of Student Affairs.
David earned his Bachelors, Masters, and Doctorate degrees all at Indiana University, Bloomington. David first came to UVM in 1975 as Director of Student Activities and the Student Center. He held a faculty appointment in the College of Education and Social Services teaching undergraduate students in leadership courses and graduate students in the Higher Education Student Affairs program. He left UVM in 1982 and held administrative appointments at the University of California, Santa Barbara, Colorado College, and Muhlenberg College, before returning to UVM in 1994 to serve as Assistant Vice President for Student Affairs.
Over the course of his career, David has been active in national student affairs organizations, served on a wide variety of campus councils, committees and task forces, and has authored or co-authored several journal articles. In addition, he has been active in the community on a variety of school, community service and youth sports organizations. David has demonstrated a long and passionate commitment to diversity and inclusion throughout his career. At UVM, he served as Chair for numerous diversity and inclusion initiatives over the last 23 years including the Spiritual and Religious Life Council, the Disability Work Group, the President's Commission on LGBT Equity, The President's Commission on Diversity and Inclusion, the Campus Accessibility Task Force, the International Advisory Council, and several different committees working on various aspects of Title IX.
Nevien Shaabneh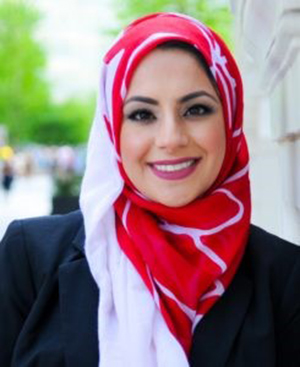 Nevien Shaabneh – Nevien Shaabneh is a novelist, public speaker and educator. Ms. Shaabneh's roots stretch thousands of miles from Chicago to Palestine where she was born.
She graduated from the University of Illinois at Chicago with a bachelor's in English Education and from Saint Xavier with a Masters of Arts. Ms. Shaabneh publicly speaks on matters relating to Muslims in America, the Arab-American experience, the Muslim Woman Narrative, on matters relating to Diversity and Inclusion, the Writing Process, Minority Voices in Writing, and is a key contributor in interfaith discussions and diversity training.
Ms. Shaabneh serves as a consultant for the Muslim Women's Alliance as well as for the youth programs at the Orland Park Community Center. She has worked with several religious institutions and served on dozens of committees in her community to assist in community building, diversity education, and establishing acceptance.
Ms. Shaabneh's debut novel, Secrets Under the Olive Tree, has sold world-wide with a far reaching reader base. She has currently finished her second novel to be under contract soon. She is a proud mother of three children. She believes in the importance of investing in our youth. She works closely with youth programs and trains young leaders to use their voice for change. She inspires expression and social action through speaking and writing. Ms. Shaabneh has taught high school English for fifteen years.
Ms. Shaabneh remains a staunch advocate in the power of literature and the arts. She believes, "Real literature, great literature, moves people,"and to "Never underestimate the power of a good story."
Last Modified: