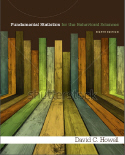 Fundamental Statistics for the
Behavioral Sciences
8th edition

David C. Howell
---
Data Sets
The following links will bring up the data for an example, an exercise, or some other data set. The variable names are given in the first row. Most software will accept variable names, though you often have to specify that they are there. Data are in standard ASCII files that can be imported by most statistical software packages. They are also in SPSS sav files, which can open directly into SPSS. The variables are tab or space delineated. SPSS has changed the way that it handles missing data and "white spaces." I have tried to use "999" for all missing observation, instead of the "." that used to work. I have also tried to put only a single tab between columns, but if data end up in the wrong column, I probably stuck in an extra space. If so, please let me know at David.Howell@uvm.edu.
If you would like to download all of the data files to your computer, you can download the zipped file DataFiles.zip. There are a few files here that you do not need, but they take up so little room that it doesn't matter.
General Data Sets
These are data sets that are referred to throughout the text and are not tied to a particular chapter.
Data Sets for Specific Chapters
Chapter One

There are no data files in this chapter.

Chapter One

There are no data files in this chapter.

Chapter Eleven-dat

Chapter Eleven-SPSS

Chapter Two-dat

Chapter Two-SPSS

Chapter Twelve-dat

Chapter Twelve-SPSS

Chapter Three-dat

Chapter Three-SPSS

Chapter Thirteen-dat

Chapter Thirteen-SPSS

Chapter Four-dat

Chapter Four-SPSS

Chapter Fourteen-dat

Chapter Fourteen-SPSS

Chapter Five-dat

Chapter Five-SPSS

Chapter Fifteen

There are no data files for this chapter

Chapter Fifteen

There are no data files for this chapter

Chapter Six-dat

Chapter Six-SPSS

Chapter Sixteen-dat

Chapter Sixteen-SPSS

Chapter Seven-dat

Chapter Seven-SPSS

Chapter Seventeen-dat

Chapter Seventeen-SPSS

Chapter Eight-dat

There are no data files for this chapter

Chapter Eight-SPSS

There are no data files for this chapter

Chapter Eighteen-dat

Chapter Eighteen-SPSS

Chapter Nine-dat

Chapter Nine-SPSS

Chapter Nineteen-dat;

Chapter Nineteen-SPSS

Chapter Ten-dat

Chapter Ten-SPSS

Chapter Twenty-dat

Chapter Twenty-SPSS
Last revised:1/8/2013
dch