University of Vermont Extension System
Department of Plant and Soil Science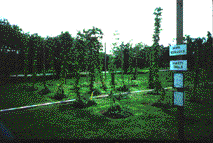 Hops Varieties - COH 34
Leonard P. Perry, Extension Associate Professor
Hops (a hardy perennial) variety trials are being conducted in four sites--the Horticulture Research Center (H) in So. Burlington, VT (above photo), the Agr. Education and Extension Center in Brattleboro, VT (B), and in Milton (M) by appointment only. Of interest is the yield and quality of hop cones, as well as overall performance and potential problems. Varieties include many standard, old traditional European, and new American varieties, many never before evaluated in this part of the country. Although of some commercial interest, with the great interest in homebrewing, most interest is consumer.
Appreciation is expressed to Dr. Stephen Kenny, cooperator in this project from the Irrigated Research Center in Prosser, Wash. who provided most of the original roots from his germplasm collection; and to site cooperator Dr. Vern Grubinger (Brattleboro).
Roots are received in March, potted at the UVM greenhouse where they are established until planting out in May. Rows are amended with compost and organic matter, fertilized at the start and middle of the season with ProGro organic 5-3-4 fertilizer and mulched. Plants are watered as needed. Organic controls such as predatory mites are used for pest problems. Generally 3 plants of each variety (2 at B) are on 7ft centers (H,M) or 3.5ft (B), rows are 7ft apart, trellises are at posts 13ft(H), 10ft(B) or 7.5ft(M). Hopyards were established in 1988(H), 1992(M), and 1994(B) with plants replaced or moved as needed.
High Alpha Acid (Bittering) Types: (Alpha acids--%-- contribute to the bitter flavor of beer. Brewing with aroma hops imparts other flavor characteristics to beer including smell and taste. Often both types are used.)
Eroica (M)--second highest alpha hop; developed after Galena; matures late and doesn't store well; 9- 12%.
Galena (B,H,M)--released by R.R. Romanko at University of Idaho in 1978; a selection from seedlings of Brewer's Gold with 50% higher alpha acid content; 11-13%, most popular high alpha hop.
Nuggett (H,M)--released by USDA at Prosser, Wash. in 1983; Brewer's Gold one of main parents; stores well, late to mature; 11-13%, second most popular high alpha hop.
Aroma Types:
Backa (H,M)--an old Yugoslavian hop; low yields; <3%.
Bramling Cross (M)--first raised in 1927 from the variety Bramling crossed with a male seedling from a Manitoba female; originated in response to the need for Verticillium wilt tolerant materials in England; 4.5-8%.
Cascade (H)--probably the most popular hop; from Fuggle and Russian hop (Serebrianker) cross; floral, spicy, citrusy; poor storage; 5-7%.
Columbia (M)--sibling of Willamette released in 1976 but with higher alpha (5-6%); triploid with a Fuggle parent; often substituted in trade for Fuggle.
Eastwell Golding (M)--originally grown at Eastwell Park, near Ashford, Kent, England some time before 1889; closely represents other types of English Goldings; 5-6.8%.
Elsasser (H,M)--an old French hop; low yields; <2%.
Fuggle (B,H,M)--English hop; oldest aroma hop in U.S.; from 1875 by Richard Fuggle; good growth in cool weather, especially if during bloom initiation; seeded; 4-5%; resistant to downy mildew.
Hallertau Mittelfrüher (not vigorous at H, replaced)--German variety susceptible to wilt and downy mildew; 4%.
Hersbrucker (not vigorous at H, replaced)--most important aroma variety in Germany; does not climb well; also from Hallertauer region; susceptible to downy mildew; 4%.
Liberty (B,H,M)--similar to Mt. Hood; triploid cross of Hallertau Mittlefrüher only with no farnesene in oil; 4-5%; named after Persian Gulf War.
Mt. Hood (M, not vigorous at H)--new variety released from Oregon Experiment Station in 1989; triploid Hallertauer Mittlefrüher type with improved yield, similar brewing properties; 3-4.5%.
Saaz (B,M,H)--an old Czech hop; low yields; original and most known lager hop; susceptible to downy mildew and red spider mite; <4%.
Spalter (M)--German hop early to mature; moderate yield; very good aroma; susceptible to diseases; 4- 5.5%.
Styrian Golding (M)--genetically the same or little different from Fuggle; grown in Slovenia and likely originally supplied from England as "Fuggles Golding"; 4-5%.
Tettnanger (H,M)--most widely grown of German hops; half the yield per plant of U.S. varieties; often seeded; second most popular aroma hop in U.S.; 4-5.5%; tolerant of downy mildew; mild, slightly spicy aroma.
Willamette (B,H,M)--released by Haunold in Oregon in 1976; triploid; similar to but more vigorous than Fuggle; reduced seed content; most widely grown aroma hop in U.S.; 4-5% resistent to downy mildew.
Dual Purpose--Aroma and High Alpha Acid
Aquila (H,M)--recent cultivar released from Idaho Experiment Station in 1987; has some aroma properties as well; not widely used; 6-8%; similar to Cluster.
Banner (M)--similar to Aquila and Cluster; 9-11%; moderate aroma; good yield.
Blue Northern Brewer (M)--sibling of Northern Brewer and similar only with dark purplish or "blue" leaves and stems; primarily ornamental.
Brewer's Gold (M)--a sibling of and similar to Bullion only maturing earlier and more disease resistant; from Prof. Salmon in England; 6-7.5%.
Bullion (M)--old English variety somewhat disease resistant; similar to Brewer's Gold; one of earliest grown hops in Oregon; 6-9% .
Centennial (H,M)--released by Zimmerman at Prosser, Wash. in 1990; citrusy and floral aroma; 9- 11%.
Chinook (B,H,M)--recent cultivar selected by C.E. Zimmerman at USDA in Prosser, Wash. and released in 1985; popular in Yakima Valley, Wash; 11-13%; similar to Galena; susceptible to downy mildew.
Cluster (M)--oldest U.S. variety and once dominant one; yields and stores well; susceptible to downey mildew; 6-8%.
Northdown (M)--released in 1971 to English growers in response to need for higher alpha-acid hops with resistance to powdery and downy mildews; susceptible to wilt; 7-10%.
Northern Brewer (M)--grown in England and Germany; moderate yield; susceptible to diseases; 6- 7.5%.
Olympic (M)--similar to Chinook; moderate aroma; high yield; susceptible to mildews; 11-13%.
Perle (H,M)--recent German cultivar with high alpha content (6.5-9%) and aroma similar to Hallertau Mittlefrüher; from Hallertauer region of Germany.
Saxon (M)--English hop released to meet the need for a higher alpha-acid hop with resistance to wilt; no longer grown; 6-7%.
Wild, Westford (M)--old unnamed variety collected along road in Westford, VT; Cluster type; good aroma properties; 6%.
Wild, Bolton (M)--old unnamed variety collected in Bolton, VT.
Wild, Sudbury (M)--old, unnamed variety collected in Sudbury, MA.
Wild, Green Mountain (M)--old variety dating to at least 1832 in Greensboro, VT;6%
---
Return to Perry's Hops Pages

Dr. Leonard Perry, Plant and Soil Science Dept. University of Vermont, Burlington, VT 05405