Lutz Kaelber, Associate Professor of Sociology, University of Vermont
Kinderfachabteilungen

("Special Children's Wards"): Sites of Nazi "Children's 'Euthanasia'" Crimes and Their Commemoration in Europe

Kinderfachabteilungen

: Orte der nationalsozialistischen "Kinder-Euthanasie" Verbrechen und der Erinnerung daran in Europa

"Specjalne oddziały dla dzieci": Miejsca zbrodni "nazistowskiej eutanazji dzieci" i pamięć o nich w Europie

"Zvláštní dětské": Místa "nacistické dětské eutanazie" zločiny a vzpomínka na ni v Evropě



GERMANY




Baden-Wuerttemberg


Stuttgart
Wiesloch


Bavaria (Bayern)


Ansbach
Eglfing-Haar
Kaufbeuren-Irsee


Berlin


Berlin-Wittenau


Brandenburg


Görden


Hamburg


Langenhorn
Rothenburgsort
Hesse (Hessen)
Eichberg
Kalmenhof


Lower Saxony (Niedersachsen)


Lüneburg




Mecklenburg-Vorpommern


Sachsenberg
Ueckermünde
North Rhine-Westphalia (Nordrhein-Westfalen)
Dortmund-Aplerbeck
Niedermarsberg
Waldniel


Saxony (Sachsen)


Grossschweidnitz
Leipzig
Leipzig-Dösen


Saxony-Anhalt (Sachsen-Anhalt)


Uchtspringe


Schleswig-Holstein


Schleswig-Hesterberg
Schleswig-Stadtfeld


Thuringia

(Thüringen)


Stadtroda
Am Feldhof [Graz]
Am Spiegelgrund [Wien]

Dziekanka (Gniezno) / Tiegenhof
Kocborowo (Starogard Gdanski) / Konradstein
Lubliniec / Loben
Wroclaw / Breslau
Dobrany / Wiesengrund



Book

with Raimond Reiter (co-editor) on

Child Murder and "Special Children's Wards" in Nazi Europe: Commemoration and Historical Research

(Hamburg 2011)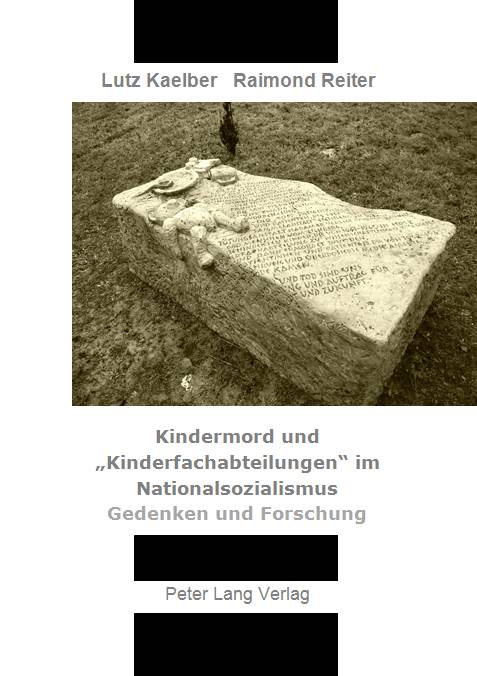 English table of contents

Latest publication on the inclusion of Jewish minors in Nazi crimes against the disabled:

"Jewish Children with Disabilities and Nazi 'Euthanasia' Crimes."

Bulletin of the Carolyn and Leonard Miller Center for Holocaust Studies

17.

PDF

Peer-Reviewed Articles:


"Virtual Traumascapes: The Commemoration of Nazi 'Children's Euthanasia' Online and On Site."

Digital Icons: Studies in Russian, Eurasian and Central European New Media 4 (2010): 13-44. Available at <http://www.digitalicons.org/issue04/files/2010/11/Kaelber-4.2.pdf> or here.



"Child Murder in Nazi Germany: The Memory of Nazi Medical Crimes and Commemoration of 'Children's Euthanasia' Victims at Two Facilities (Eichberg, Kalmenhof)."

Societies

2(3) (2012): 157-194. Available at <http://www.mdpi.com/2075-4698/2/3/157> and here. Note: there are two important supplementary files: 1 and 2.

Book chapter:

"Gedenken an die NS-'Kindereuthanasie': Zwei Fallbeispiele und allgemeine Folgerungen zur Gedenkkultur " (The Memory of NS-'Children's Euthanasia': Two Case Studies and General Implications for the Culture of Commemoration).

PDF (in:

Den Opfern ihre Namen geben: NS-"Euthanasie"-Verbrechen, historisch-politische Verantwortung und Erinnerungskultur

, ed. Arbeitskreis zur Erforschung der nationalsozialistischen "Euthanasie" und Zwangssterilisation, 2011).
-------------------------------------------------------------

Comments or questions? Email:

Lutz Kaelber, Associate Professor of Sociology, University of Vermont.