The Eugenics Survey of Vermont: Participants & Partners
HENRY FARNHAM PERKINS (1877-1956)

Director, Eugenics Survey of Vermont, 1925-1936
Professor of Zoology, University of Vermont 1902-1945
Curator, Robert Hull Fleming Museum, 1931-1945
President, American Eugenics Society, 1931-1934
Henry F. Perkins was born in 1877 in Burlington, Vermont, the only son of George Henry Perkins, Professor of Natural Sciences and Dean of Arts and Sciences at the University of Vermont and State Geologist and Entomologist. Harry followed in his father's footsteps to carry on the family tradition of civic and scientific leadership in Vermont.

He graduated Phi Beta Kappa from UVM in 1898 and received a Ph.D. in Zoology at Johns Hopkins University in 1902. Upon completion of his dissertation on the development and life cycle of Gonionema murbachii (a type of jellyfish), he began teaching Zoology at UVM. He taught biology, entomology, anatomy and physiology, and embryology during the first half of his career. He advanced to full professor in 1911 and served as chairman of the Zoology Department as more faculty were added. His sporadic research projects involved field studies in the rapidly fading naturalist tradition: studies of birds, game fish, and marine invertebrates.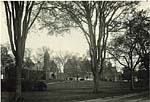 Harry Perkins's interest in human affairs, civic improvement, and social life in Burlington gradually overshadowed zoological research. With his wife and two daughters, he lived with his father, Dean George Perkins, in the house where he had grown up on the affluent "Burlington Hill" next to the University. As a leader in the YMCA since college days, a Sunday school teacher at the College Street Congregational Church, and one of the first presidents of the Boy Scout Council, Perkins solidified his reputation as a community leader with a strong interest in youth.

In 1922, Professor Perkins revamped the Zoology curriculum and began teaching courses specifically on Heredity and Evolution. His heredity class provided the first known venue for eugenics education at UVM and the inspiration for a "Eugenics Survey" -- a field station to study Vermonters. As Director of the Eugenics Survey, Harry Perkins emerged as Vermont's resident eugenicist and dedicated the second half of his career to preserving the Yankee Protestant stronghold on the identity, the heritage, and the future of Vermont.
Professor Perkins's views on eugenics were sufficiently broad and flexible to permit him to revise his position on the roles of heredity and environment when scientific opinion or local sentiments demanded it. In 1927-28, he took a sabbatical to solicit funding and organize a comprehensive survey of rural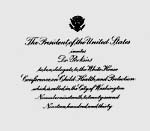 Vermont, including all aspects of rural life that might explain the causes and effects of rural decline in the state. The resulting Vermont Commission on Country Life permitted Perkins to incorporate eugenic agendas into a comprehensive plan for community development in the state. Perkins served as VCCL secretary until 1931 and Executive Vice President of the Commission thereafter. In 1930, Perkins attended the White House Conference on Child Health and Protection and incorporated their recommended reforms into his eugenics education in Vermont.
In 1931, Perkins was elected president of the American Eugenics Society, an opportunity he used to publicize the accomplishments of Eugenics Survey and the Vermont Commission on Country Life to national audiences. He resigned as president in 1934, but continued to serve on their executive board until his retirement.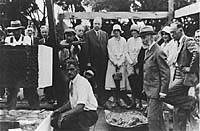 When the Eugenics Survey closed in 1936, Perkins moved its archive and the records of the Vermont Commission on Country Life to the Robert Hull Fleming Museum at the University of Vermont, where he served as director from 1931 to 1945. He obtained WPA funds to catalogue and preserve the records for posterity. Perkins continued to teach eugenics and genetics at UVM until his retirement in 1945 and remained active in the UVM Alumni Association until his death in 1956.
Henry Perkins's shifting interpretations of eugenics are evident in his writings and speeches. Most of his commentaries and his proposals are found in these sections: