UVM's new 15-credit Integrative Health and Wellness Coaching Minor will prepare you to be an integrative health and wellness coach and to work with individuals to promote healthy lifestyle changes. Integrative health and wellness coaches work with employee wellness programs, community health teams, youth and families, people recovering from addiction, veterans, people with disabilities, and others.
The National Board for Health & Wellness Coaches (NBHWC) introduced a certification exam for health and wellness coaches in 2017, formally recognizing the profession and increasing demand for certified coaches. Students who complete HLTH 187, 188, 189, 287, 288 and 289, along with a minimum of 60 University credits total, and practice within the community are eligible to sit the NBHWC National Certification Exam. Upon completion of the required coursework and passing of the National Certification Exam, an individual can use the following credentials: Jane Smith, NBC-HWC. (National Board Certified – Health and Wellness Coach)
The Bureau of Labor Statistics projects high employment growth for integrative health and wellness coaches from 2014-2024, as emphasis on preventative healthcare grows.
What makes it integrative?
Integrative health involves a blend of traditional medical care and complementary care to provide the best individualized whole-person treatment. Taking care of the whole person involves many different aspects of health, including: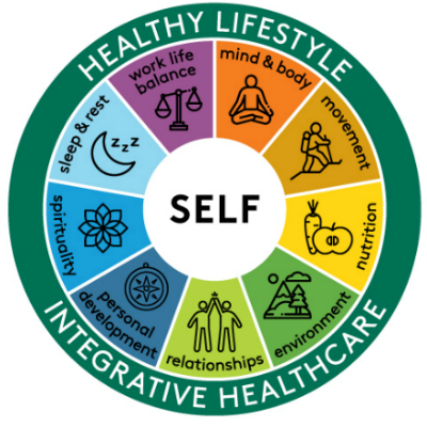 Food and nourishment
Exercise and movement
Stress management
Work-life balance
Healthy environment
Sleep and rest
Relationships and community
Mind-body connection
Self-compassion