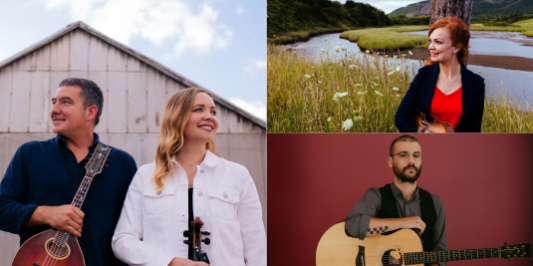 A Holiday Program!
Dates: Friday, December 8, 2023 - SOLD OUT
NEW DATE ADDED: Saturday, December 9th
Doors: 7:00pm | Show: 7:30pm
Venue: UVM Recital Hall
Address: 384 South Prospect Street, Burlington, VT 05405
Tickets: $45 Adult | $6.50 Student (Inclusive of Fees)
One of the great Cape Breton bands and a favorite of the Lane traditional music audience joins us again for a joyful holiday program. Còig is known for their absolute mastery of the Celtic Cape Breton style, lovely harmonies, and great arrangements of songs both old and new. This year, along with Darren McMullen on guitars, mandolin, banjo, bouzouki, and whistles, and Montreal guitarist/foot percussionist Thierry Clouette, the lineup will feature the great fiddler (and dancer) Margie Beaton—who, along with the amazing Rachel Davis will give us that inimitable two-fiddle sound that makes the music of Còig such an energetic rush!