By Carolyn Shapiro
Colorado College has a satellite campus in Crestone, Colo., about a three-hour drive from its main campus in Colorado Springs. Known as the Baca campus, the outpost draws faculty members when they want a change of scenery or a getaway to concentrate on a project.
Last year, professor Corey Hutchins took his Future and Sustainability of Local News class on a field trip to the Baca campus to spend a few days studying the Crestone Eagle, the local newspaper, which was converting to a nonprofit model. The students interviewed the Eagle's leaders, public officials and the board that would run the nonprofit entity. The nonprofit board members told them they struggled to attract reporters, even interns, because of the area's remoteness and lack of housing, said Hutchins, co-director of Colorado College's Journalism Institute.
That gave Hutchins an idea: He got approval from college leadership to create an Eagle internship, for students to serve as reporters while they live at the Baca campus. Since then, the college has sent two separate groups, five students total, to work in the Crestone newsroom.
"They learn how the paper works top to bottom," Hutchins said. "They don't just help them produce news. They learn how the advertising works. They go to the printing press and watch it get printed. They help lay it out."
The Crestone internship is one of many Journalism Institute programs that give students real-world experience while they support community news in Colorado.
Future and Sustainability of Local News students helped Hutchins build and maintain the Colorado News Mapping Project database. It's the source for a public-facing, interactive map of 64 counties with about 700 news and information sources — from traditional newspapers to Facebook groups. "In one county, the least populous county, literally a person goes door to door and tells people the news who she knows doesn't have Internet," Hutchins said.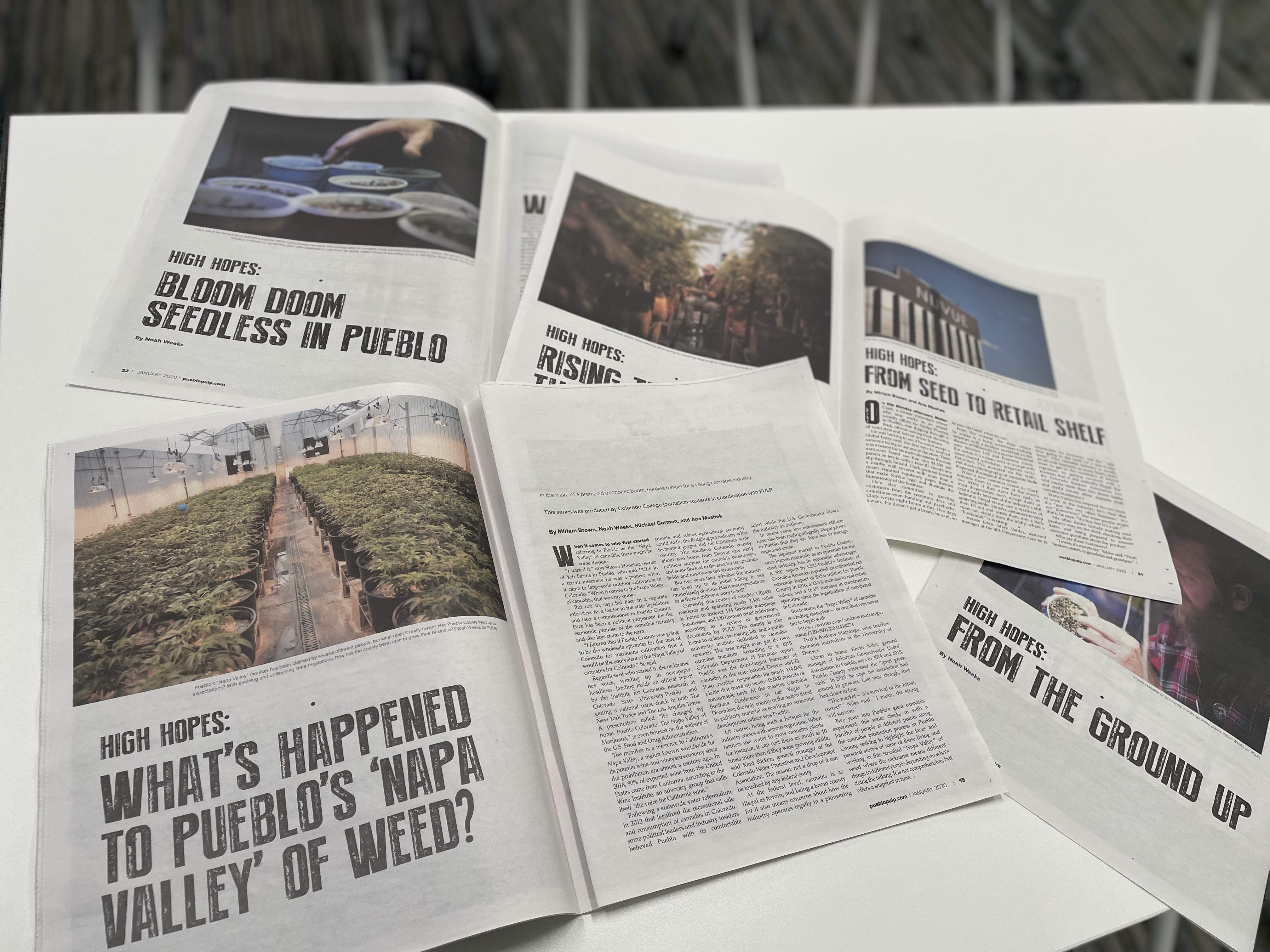 Colorado College, a small, private liberal arts school, features a unique structure known as the "block plan." Students take a single, intensive course for three and a half weeks. The model allows journalism students to immerse themselves in a reporting and writing project during one or more blocks, Hutchins said.
"A lot of the work that our students are doing at the Journalism Institute is really helping the local news ecosystem here," Hutchins said. "Local news organizations get something out of it. The students clearly get something meaningful out of that process."
Steve Hayward, former chair of the college's English department, founded the Journalism Institute in 2018 to create a consistent roster of classes and support a longstanding journalism minor. Previously, faculty with an interest in the subject taught some classes, and visiting professional journalists would come to campus to lead an occasional block.
Six years ago, Hutchins was one of those block visitors. The veteran reporter worked for Columbia Journalism Review on its United States Project, reporting on the local news landscape and covering innovative approaches to combat the industry's decline.
Hayward, a novelist and former newspaper editor, asked Hutchins to help him run the institute, which now has about 30 journalism minors. They have to take four journalism courses – one introductory class and three of their choice — though many opt to take more. They also complete a capstone project and an internship with an outside news organization. Students in other college programs take Journalism Institute classes, too.
The institute has thrived on creativity, a willingness to try different things and fail, Hayward said. "You can't think of the Journalism Institute as being some kind of monumental entity. It's really a kind of plucky startup."
For their capstone, journalism students report and write a longform story for publication, broadcast or podcast – a medium of their choice, he said. Hutchins helps them find the right outlet for their story and pitch it.
"I wanted them to get the experience," he said. "I wanted them to know what it's like to have to come up with a story idea, develop it, pitch it to a professional editor, work with them, execute it, publish it, and then promote it. And so when they graduated, they knew how to do that."
One student wrote an in-depth piece on proposed state legislation to reintroduce wolves to Colorado. "The Colorado Independent told me that that story was one of the most read stories for weeks on their website," Hutchins said.
For their class work, students get credit but no pay for their stories. For their internships outside of school, Colorado College has secured grant funding that it provides to outlets that hire the student reporters.
In the advanced journalism class, 12 to 15 students work in groups of four on a project for partner news organization. One recent advanced group partnered with Pulp, a news magazine in Pueblo, Colo., on a 10-part package about the cannabis industry's failure to blossom as it was expected to.
Pulp's publisher told Hutchins his staff wanted to do that story but never found the time to concentrate on it. "I think it showed him that students could do work at a really professional level," Hutchins said, "and so it was great for the students and great for the publication."