A native of Baku, Azerbaijan, Natavan Dudkina has discovered a talent for language—both linguistic and scientific. She attended school in Baku and took some English courses in middle school, but didn't get a chance to practice the language until she was accepted into a cultural exchange program sponsored by the American embassy in Azerbaijan.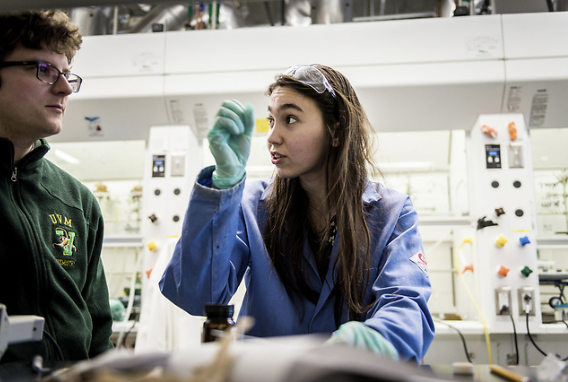 "We spent two weeks in Washington, DC, and two weeks in Seattle. Sometimes it was a struggle to remember the right words to describe simple things, but with practice I got better." When she announced her interest in attending college in the U.S., her parents were apprehensive. Dudkina compromised: she agreed to prepare for exams in her home country while exploring college options in the U.S. She learned about UVM at an education fair, and was intrigued by the highly regarded medical school located on campus and the small-city atmosphere of Burlington. She also found out about the Global Gateway Program, which helps international students at UVM hone their English language skills while adjusting to life in the U.S.
"The program helped me get acclimated to higher education in America. In my home country there was very little tolerance for questioning in class—it could be interpreted as challenging the authority of the teacher. Here, I learned that asking questions is encouraged." Fascinated by her biology and chemistry coursework, she settled on biochemistry as a major. "I love applying the language of chemistry to biological systems—the disciplines really build on each other," she said.
She found an intellectual home in the lab of chemistry professor Severin Schnebelli, which specializes in finding efficient ways to build organic molecules. Dudkina described it as a life changing experience. "I really feel like part of the team. They include me in conversations and treat me as a person who can contribute ideas and suggestions. They always ask me 'Nata, what do you think?'"
Dudkina investigated the properties of "the chemistry beyond the bond," a relatively new field called supramolecular chemistry, building new, interesting molecular structures.
She had her sights set on pursuing a Ph.D. program in chemistry, and with the help of Schnebelli and Ph.D. student Mona Sharafi, Dudkina was  accepted to a graduate program in chemistry at Yale.
"My research involvement in Professor Schneebeli's group has been a life-changing experience, and that's not an exaggeration. I've never felt as intellectually involved as I am right now."