Vermont Food Summit
...humble beginnings, but with big plans for the future of food.
Everyone eats. The simple fact, but a complicated issue. Every day we make choices about the food that we eat, whether conscious or not, that shapes who we are and the world that we live in. We all bring different perspectives to the table, and vote with our fork three times a day. So when there was an idea of having a week at UVM dedicated just to food, we knew that it would have to be a campus and community wide effort to make it happen.
The Vermont Food Summit is a student-organized event with one goal, to bring the University community together around the topic of food. Whether you are a future farmer, always crave French friesbring your coffee mug for refills, can make a mean banana bread, or believe that food is a right, you have something important to contribute to the Vermont Food Summit. There are many levels of engagement for the week, from presenting at the Open Space Forum to judging the food at the Battle of the Campus Chefs. And if there is an area of food that you feel is missing, create it! (check out the Food Lounge!)
Throughout the week, we encourage you to look at your plate of food a little differently. Think about who made it, where it came from, what it's being served on, where is it going to go when you finish. Eat a meal with someone new, try a new recipe, read an article about food, sign up for a CSA share, or sign a petition to increase food justice. And again, just have fun, it's food after all!
-
Vermont Food Summit
The Table...
with "real food" and the issues on the menu.
The Vermont Food Summit believes in real food, which is food, "that is ethically produced, with fair treatment of workers, equitable relationships with farmers (locally and abroad), and humanely treated animals. It's food that is environmentally sustainable, grown without chemical pesticides, large-scale mono-cropping or huge carbon footprints. Real Food is food that is healthy, tastes good, builds community, and has the potential to inspire broad-scale social change (RFC website)." We are using this wheel from our friends at the Real Food Challenge to set the stage and the table for a new way to think about food.
Look at the wheel, what areas are most important to you? What do you want to learn more about? What can you bring to the table?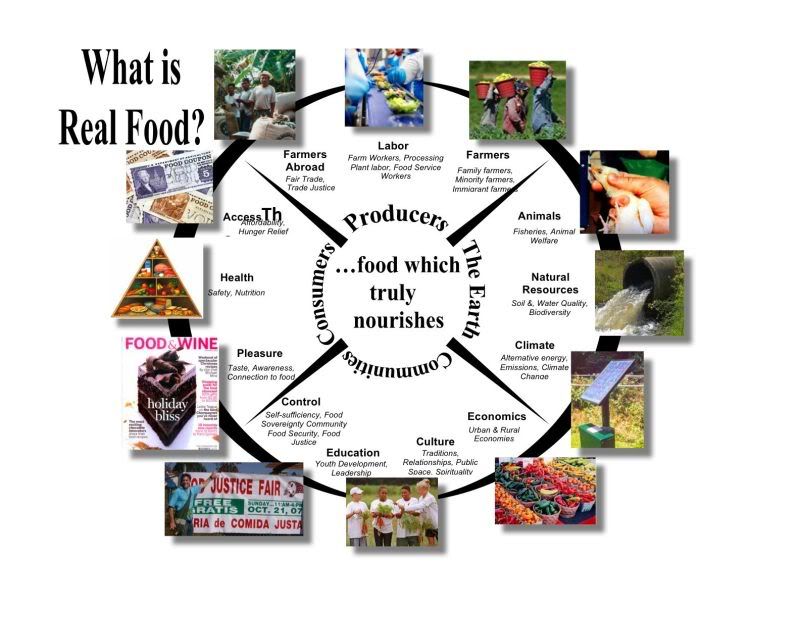 Other ways to get involved with the Vermont Food Summit!
Here are some other ways to get involved with the Vermont Food Summit and create change for the way we eat at UVM!
1. Get friends, residents, colleagues, housemates, or anyone else together to enjoy a meal together! Take a photo of the event and we will post it on the VFS website (email to vfs@uvm.edu).
2. Fill out a comment card at one of the dining locations. Make it positive or constructive advise for changes they could make, but either way they need to know what we are hungry for!
3. Bring your coffee mug for a discounted refill! Only 12% of the people that purchase coffee at the DC bring their own mug! Also, think about the packaged waste that you go through in a day.
4. Check out the events that are going on during Earth Week and Focus the Nation from April 20-24. Something to think about is that 1/3 of greenhouse gases come from agriculture and food!
5. Read and sign the online Food Declaration and be a part of the nation food revolution-
fooddeclaration.org
Last modified March 25 2011 09:35 AM