Workforce Development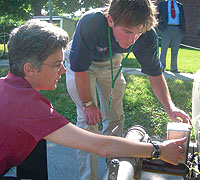 The U.S. Department of Transportation has awarded $979,829 to the University of Vermont's Transportation Research Center (TRC) as part of a $1.01 million workforce development project to help develop innovative programs to attract and retain skilled workers in the transportation sector of Vermont, New Hampshire and Maine.
Given northern New England's demographic changes and the turbulent nature of our 21st-century transportation system, the transportation sector requires a comprehensive workforce development plan. The grant awarded to the TRC is funding five programs to help transportation leaders attract and maintain workers in this challenging environment (see the poster from our 2008 Research Expo).
The Transportation Systems Academy provides hands-on training to community and technical high schools.
The National Transportation and Community College Summit explores the role of these colleges in preparing students for transportation careers.
The Transportation Systems Institute with Vermont Technical College focuses on maintaining or recruiting to DOT workforces.
The Second Careers in Transportation Program with AARP examines issues in attracting older talent to the transportation industry.
The Summer Transportation Institute with Upward Bound reaches out to high school students.
Our partners include: Maine Department of Transportation, New Hampshire Department of Transportation, Vermont Agency of Transportation, AARP-Vermont, New Hampshire LTAP at UNH, Vermont Local Roads (Vermont LTAP), Vermont Technical College.