VTCCC Clean Fleet Solutions Recap
Photo: Larry Beaulieu, UPS East Region Automotive Manager, left, with VTCCC Coordinator Tom McGrath
On February 28, the Vermont Clean Cities Coalition held a stakeholder meeting titled "Clean Fleet Solutions," with several speakers discussing the pursuit of fleet efficiency and alternative fuels.
Keynote speaker Larry Beaulieu, UPS East Region Automotive Manager, presented a fascinating overview of national and international UPS fleets. Highlights of the presentation included everything from the company's ranking in the top 20 nationally for airline fleet size to their use of bicycle transportation in remote tropical locations. Beaulieu also described the many efforts of the company in improving their efficiency and fuel consumption, from alternative fuel use, anti-idling efforts, safety measures, and use of telematics, which provide extensive data. These and other efforts by the company have led to annual petroleum fuel consumption reduction of 3 million gallons and 30 million miles reduced from vehicle miles traveled. The presentation made it very clear that UPS is constantly evaluating, at the national and local level, how they can improve efficiency. UPS is a member of the Clean Cities National Clean Fleet Partners.
Also presenting at the event was James Mullowney of Vermont Gas Systems. He profiled the Vermont Gas vehicle fleet. Mullowney shared information on their successful implementation of natural gas vehicles (NGV) for service vans and passenger cars.
Peter Bourne of Bourne's Energy spoke about his company's new biodiesel initiative, detailing the implementation of a new biodiesel blending facility in Morrisville, VT. With the new facility, customers now have access to biodiesel blends ranging from B5 to B-99 (5 to 99 percent biodiesel, blended with petro-diesel) for both home heating and on-road use.
VTCCC Coordinator Tom McGrath gave an update detailing the coalitions inclusion in the Northeast Clean Cities Coalitions' Project: "Removing Barriers, Implementing Policies, and Advancing Alternative Fuel Markets in New England." The project includes barrier reduction initiatives, market development and outreach initiatives, drafting model policy language, working with MPO's, and safety and training workshops.
For more information, please contact VTCCC coordinator Tom McGrath.
National Alternative Fuel Vehicle Day Odyssey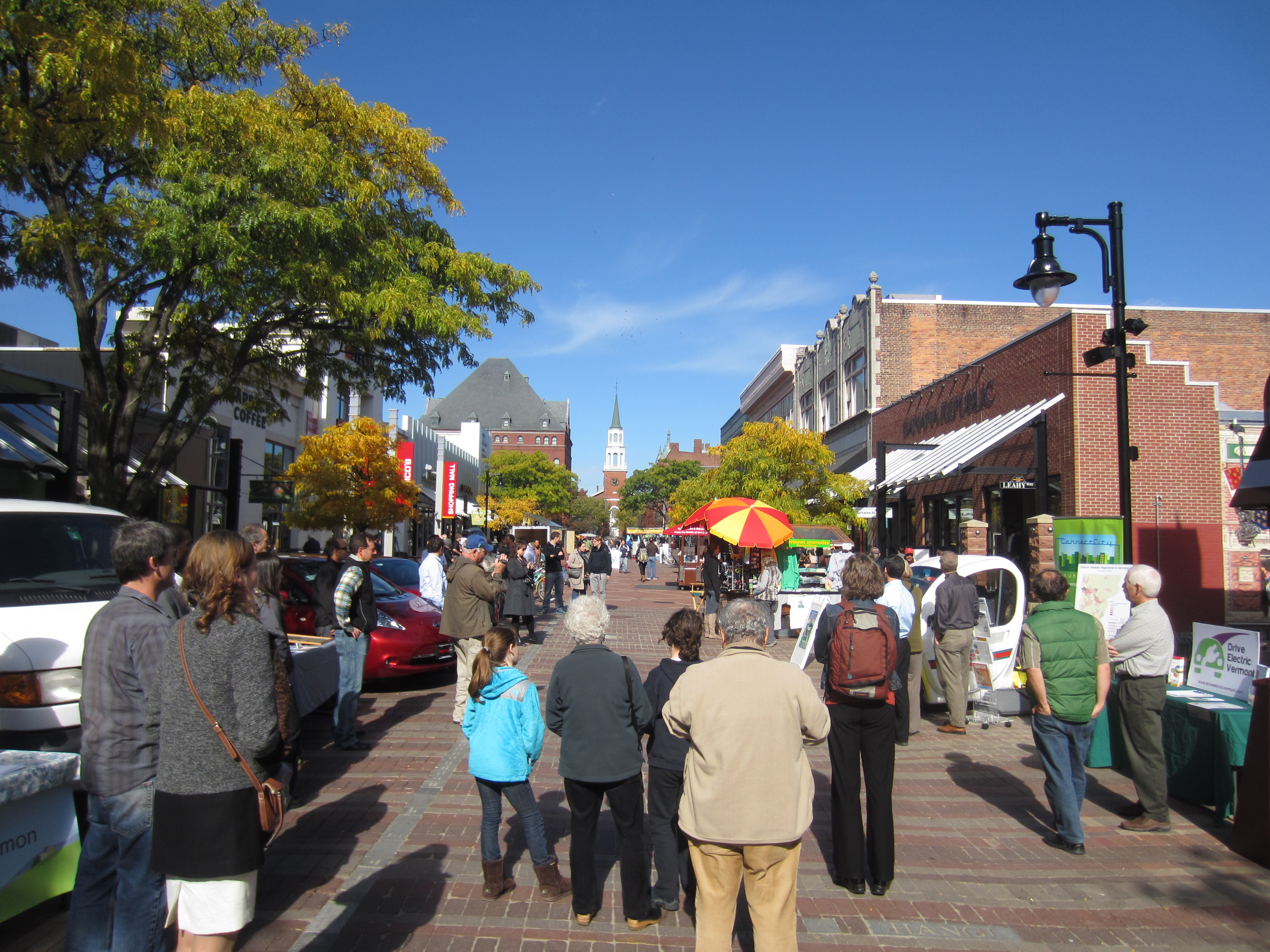 The Vermont Clean Cities Coalition (VTCCC) celebrated National Alternative Fuel Vehicle Day Odyssey on the Church Street Marketplace in Burlington on October 18. The weather cooperated with the promotion of alternative fuel and advanced technology vehicles, as hundreds of spectators milled about. The selection included plug-in electric vehicles, natural gas vehicles, plug-in and biodiesel conversions, and human-powered vehicles, bikes, and bike trailers.

VTCCC coordinator Tom McGrath addressed the crowd and spoke about the Clean Cities mission. Special guests Vermont State Representative Kesha Ram and Burlington Mayor Miro Weinberger also delivered remarks in support of alternative fuel vehicles. Their remarks are on the CCTV Channel 17 coverage of Odyssey Day here. Additionally, check out WCAX's coverage of the event here.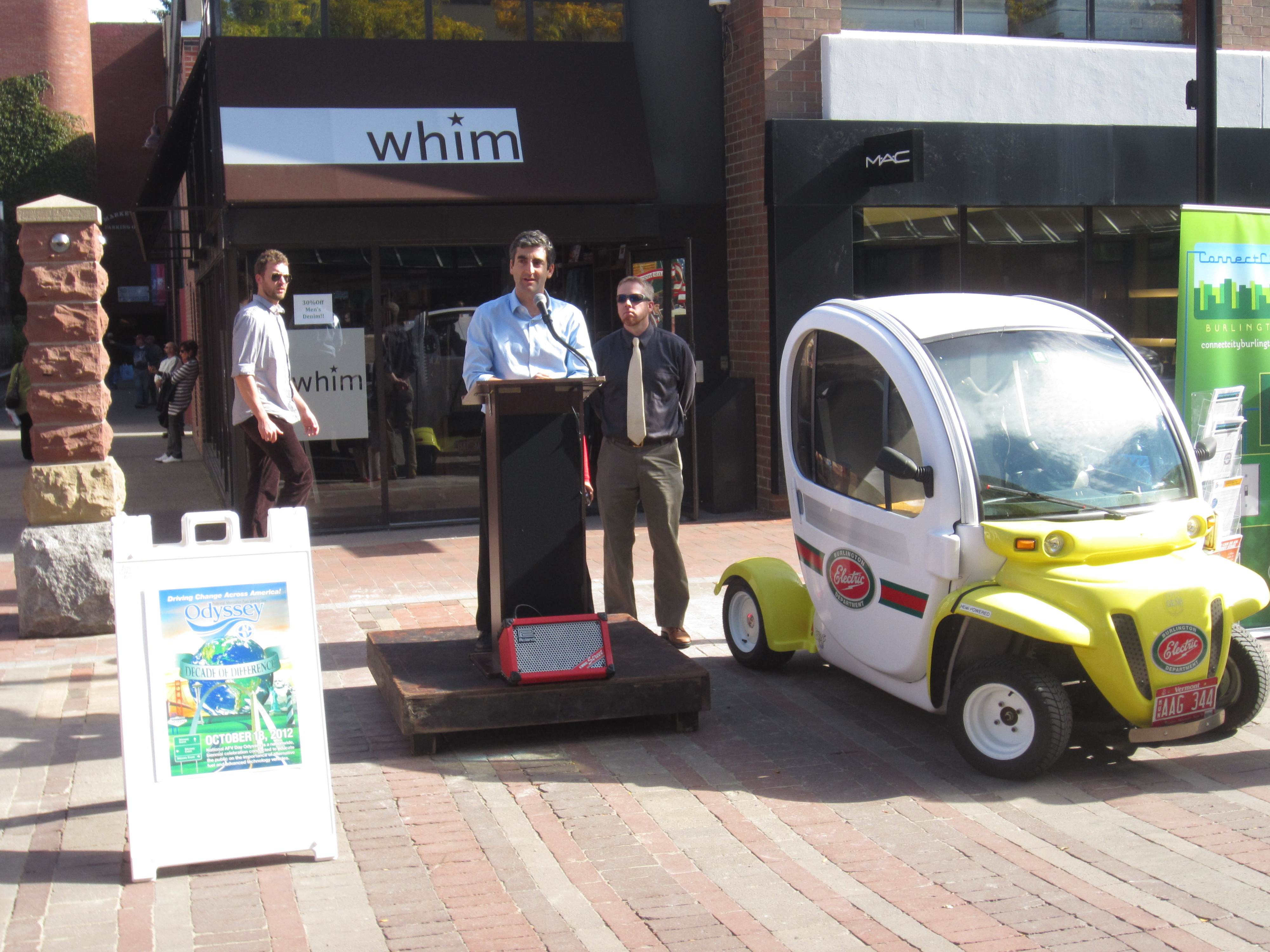 Participants in the Odyssey event included:

UVM Transportation Research Center
Casella Waste Systems
UVM Transportation and Parking Services
Vermont Gas Systems
Burlington Mitsubishi
General Electric
Sun Common
Global Garage Sale
Drive Electric Vermont
Burlington Electric Department
Green Mountain Power
Freedom Nissan
Tesla
Shearer Chevrolet
Ski Rack
Old Spoke's Home
Earl's Cyclery
One Revolution
Drill Bike
UVM Aero
ConVerdant Vehicles
Green Diesels.net
VTCCC Releases PEV Readiness Findings Report
The overall purpose and goals of this project were to disseminate information, create dialogue, and build capacity among targeted groups of stakeholders who are vital for the mass deployment of plug-in electric vehicles (PEVs) in Vermont. Full Report
VTCCC Hosts EV Owners Luncheon
On August 13, 2012 eight electric vehicle owners from Vermont came together at Healthy Living Market and Cafe in South Burlington for a luncheon held by the Vermont Clean Cities Coalition (VTCCC). On hand were the owners of four Chevy Volts, two Teslas, one converted motorcycle, and one converted sedan. Also in attendance at the luncheon was Karin McNeil from the state's Public Service Department, Don Lorriane from Green Mountain Power, and three VTCCC staff members.
The vehicles were all parked in front of the EV charging station unveiled by Healthy Living and Green Mountain Power in October, 2011. The event showcased the fact that plug-in electric vehicles are on the road in Vermont and that the need for public charging stations is increasing. Nationwide, sales of PEVs in their first year of availability have outsold sales of hybrid vehicles during their first year of availability.
Read More
Electric Vehicle Safety Training for Vermont First Responders
TRC's Vermont Clean Cities Coordinator Tom McGrath helped initiate and coordinate an electric vehicle (EV) safety training course March 3, 2012 at the Vermont Fire Academy. Sponsored by the National Fire Protection Association (NFPA), the training was designed to educate firefighters on proper response methods when called to a crash or fire involving hybrid-electric, plug-in hybrid-electric, and all-electric vehicles. TRC's plug-in hybrid vehicle "Spark" accompanied McGrath to the training. Forty two first responders from across the state attended this program.
Spark, the UVM TRC's converted plug-in Prius was donated by Central Vermont Public Service. Other display vehicles included a new Chevy Volt and Toyota Prius, provided by Alderman's Chevrolet and Toyota Scion. The program was covered by WCAX in an extensive TV piece and in the NFPA news.
The Vermont Clean Cities Coalition, housed at the TRC, is currently part of a ten-state EV planning grant sponsored by the US Department of Energy. The work aims to streamline procedures and outreach efforts in order to prepare the northeast for mass EV deployment. EV-related work has been a focus at the TRC.
EV Charging Station at Healthy Living Market
The South Burlington Network News from Tuttle Middle School produced this segment for the recent EV charging station unveiling. Read more about the charging station.
Clean Cities TV video
VTCCC visited State Line Farm where John Williamson grows his own oilseed crops to make his own biodiesel. See the VTCCC video about State Line Farm at www.cleancities.tv
EV Handbook
Clean Cities Releases
Plug-In Electric Vehicle Handbook for Consumers
.
Eco-driving workshops
Provide hands-on training in proven energy-reduction strategies by encouraging more fuel-efficient driving and less idling. Eco-driving...
- saves local governments and individual drivers money;
- gets immediate GHG reductions; and
- costs little to implement.
Workshop participants will learn dozens of methods for cutting back on fuel consumption- reducing their carbon footprint, and saving money at the same time. Small changes in driving habits- such as avoiding "jackrabbit" starts and stops, keeping tires properly inflated, and removing excess weight from a vehicle- can greatly decrease the amount of fuel used. When more drivers follow eco-driving practices, roads are safer and less stressful.
Schedule an Eco-Driving Workshop in your community or at your business! Call Tom McGrath at 802-656-9864 or email tmcgrath@uvm.edu
Find out more about these Clean Cities programs, or schedule a workshop, by contacting Tom McGrath at tmcgrath@uvm.edu or call 802-656-9864.