Clean Cities Events
Vermont Clean Cities Coalition Annual Stakeholder's Meeting - April 14, 2009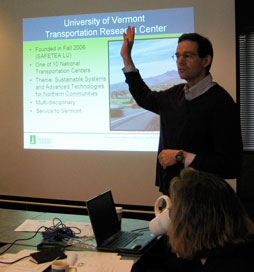 The annual meeting was held in Decision Theater at Farrell Hall, UVM.
Stakeholders from organizations such as the VT Sierra Club, CCMPO, and the Vermont Agencies of Transportation and Natural Resources, as well as representatives from Senator Sanders and Leahy's office, students, professors and residents from throughout the state. Stakeholders heard about from Dr. Richard Watts (pictured left), UVM Transportation Research Center Research Director spoke about TRC research projects that overlap with the Clean Cities mission. To view his presentation, click here.
Karen Glitman, Vermont Clean Cities Coalition Coordinator and TRC Program Manager gave a VCCC Year in Review that showcased activities and events that took place in the past year. To view her presentation click here.
Funding opportunities made available through the ARRA that support the Clean Cities mission were presented. These include the CC solicitation, Diesel Emissions Reduction Act (DERA), Energy Efficiency and Conservation Block Grants (EECBG), State Energy Program (SEP), tax credits, and Smart Grid funding. VCCC will be submitting a grant in coordination with Maine and New Hampshire Clean Cities Coalitions in response to the ARRA Clean Cities solicitation.
Stakeholders also discuss the benefits and drawbacks of introducing a membership and dues structure for the VCCC. A review of Clean Cities Coalitions yielded diverse membership and dues structures reflective of the diversity of coalitions. If you have an opinion on this issue please contact Karen Glitman.