The Simberloff Sessions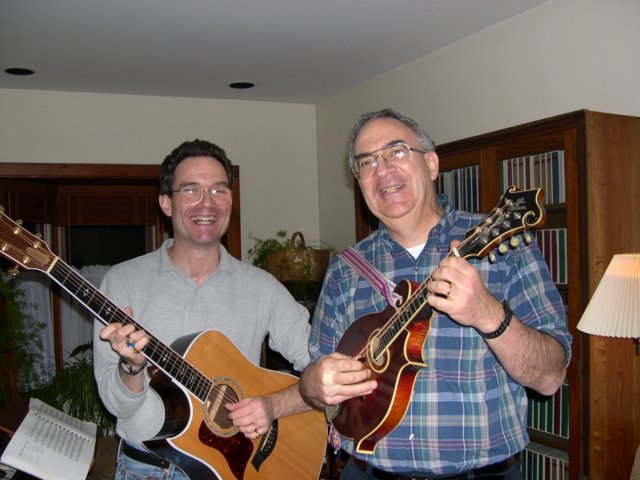 Nick & Dan. Burlington, 2004. Photo by Maryanne Kampmann.
Dan Simberloff is a virtuoso mandolin player who sounds like Bill Monroe and who used to play with David Grisman in the 1960s. In November of 2004, just after the disappointing U.S. presidential elections, Dan came to Burlington to give a seminar at the University of Vermont. These unrehearsed songs were taken from two brief sessions recorded on November 7th and 8th, entitled "In A Blue State." LListen carefully to the conversation at the end of Hamilton County, and you can hear Dan talking about teaching this tune to Grisman.
Chinese Breakdown [1:34]
Hawkins Rag [1:50]
Fire On The Mountain [1:10]
Hamilton County [1:11]
> BACK TO NICK GOTELLI'S MUSIC GRID <
---
Back to Nick Gotelli's Homepage

Send all comments, questions, and inquiries to Nicholas.Gotelli@uvm.edu
All Pages Copyright © 2007 by Kesey-Bear, Inc.
All rights reserved