Biography of Susan A. Reeves
UVM Major: Doctoral, Educational Leadership and Policy Studies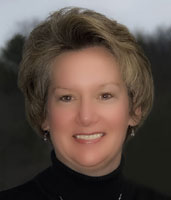 Susan A. Reeves of New London, NH, has been named as a 2009 Inaugural Fellow in the James C. Jeffords Center for Policy Studies at the University of Vermont. Susan is a doctoral candidate in the UVM School of Education's Educational Leadership and Policy program, and will be completing her dissertation research during the 09-10 academic year.
Reeves is a 1980 graduate of the Mary Hitchcock Memorial Hospital School of Nursing in Hanover, New Hampshire. In 1986, she received her Bachelor of Science in Nursing from Colby-Sawyer College, and in 1991, her Master of Science in Nursing from the University of New Hampshire. Since becoming a registered nurse in 1980, Reeves has spent her career at Dartmouth-Hitchcock Medical Center in Lebanon, NH, where she has practiced in a variety of clinical and administrative capacities. She presently serves as a Vice President at the Medical Center, as well as the Chair of the Department of Nursing at Colby-Sawyer College where she was recently named the Gladys A. Burrows Distinguished Professor of Nursing.
Reeves is married to David W. Reeves, a Woodstock VT attorney, and has two sons. Her older son, David works in Washington, DC for Senator Patrick Leahy's Senate Judiciary Committee office. Her son, Daniel, is a 7th grader at Kearsarge Regional Middle School.
Project Description
Reeves' research interests lie in the area of medical error reduction and interprofessional education for the health professions. Her dissertation research is designed to explore the effectiveness of teaching strategies that were used to teach nursing students about communication techniques that enhance patient safety. . Realist review, a new method of systematic review designed for complex interventions, will be used to address the question of effectiveness (Pawson, Greenhalgh, Harvey & Walsh, 2005).