Royalton Town House, 1840
---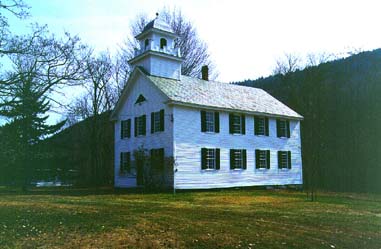 ---

The Greek Revival building was constructed in 1840 to replace the original Royalton Academy and Town Hall buildings, which were destroyed in a fire the year before. The rectangular, two-story, 3 by 4 bay, gable front building is constructed out of wood, with a slate roof and a stone foundation.
The building walls are covered with wood clapboard. On the slate roof there is a boxed bell-tower, and a small brick chimney towards the center. The wood siding is detailed on each plane with a thin, wood trim. The buildings' front façade has three bays, while the sides have four. There are five windows on the front elevation of the building, one at each side of the door and three on the second floor.
The central wooden door is five paneled and has a simple wood molding with corner blocks. All the windows are twelve over twelve and have thin wood surrounds. Above the middle window on the second floor is a triangular gable fan. A Greek Revival cornice (designed following the dimensions and proportions of the style) brings the roofline in contact with the front wall; end returns reinforce the roofline of the building.