---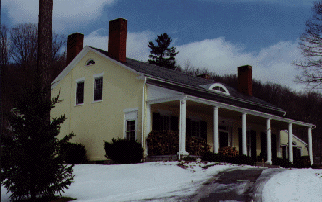 9. The Leavenworth House/
The Captain's House c.1824/c.1887/c.1950
This brick one-and-a-half story, five by two bay, eaves front, Federal style house has a distinctive full front porch on the main south facing facade. A shorter, two-story wing built c.1887 extends from the rear of the main block of the house, followed by a one-story connector, and an intersecting at a right angle, c.1950 gable-end, eaves-front garage on the west side, and a modern two story apartment addition over the former carriage barn on the east side.
The main block of the house has a stone foundation, painted brick walls, a slate shingle roof and paired interior end chimneys on the west and east ends. The slightly recessed, centrally placed front entrance has a six-panel, two-part door, with a center hinge connecting the two paneled sections. The door is flanked by three-quarter length, two-paned sidelights, a single light transom above, and Federal style pilasters and entablatures. On either side of the entrance are two pairs of twelve-over-twelve double hung sash windows with quarter-round architrave surrounds and splayed lintels. A small elliptical dormer fan window centered on the front roof slope was added c.1950. On the west facade of the main section is a partially infilled six-over-six window with a splayed lintel; on the second floor of both the west and east ends are two six-over-six windows with splayed lintels beneath a fan window in the gable peak..
The one-by-five bay porch features Tuscan columns with capitals and bases, similar engaged columns on each end of the front facade, and a beadboard ceiling.
A recent shed roof sun porch extends from the east gable end of the main block. On the south facing side is a Palladian style three-part sliding door with an arched window above. The east sloping facade consists of five large panes of glass.
Wing
The three bay long rear ell has aluminum siding and a shallow pitched, metal roof. There is a side entrance on the west facade. Windows are six-over-one double hung except for the horizontal twelve-over-one window in the third bay of the west wall. The one-story connector has a small recessed porch on the east side and a concrete block chimney on the north end.
The attached two-bay garage has novelty siding, an asphalt shingle roof, and two six-over-one double-hung windows on each eaves side. The attached two-story apartment is sheathed in gray-stained clapboards and has an asphalt shingle roof. The entrance door is on the north side and the fenestration is irregular. The first-floor south-facing side of this wing has an arched carriage bay.
RETURN TO MAIN PAGE