---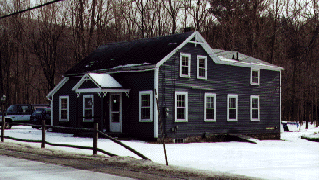 21. The Gray House c.1800/1890
This vernacular style, one-and-a-half story, three-by-two bay, gable roof, eaves front house is located across Woodford Road from the Carriage Barn (#20). The house has a concrete foundation, clapboard siding, and asphalt roofing shingles. A one-bay, centrally placed, gable roof entrance porch with bracket details and a simple west gable end gable screen appear to be c.1890 features.
From the rear of the building extends a two-story gable roof ell. A small, one-story, shed roof addition on the east side connects a recently added, one story, two-bay, eaves front wing. Most of the six-over-six double hung sash windows throughout the house have new one-over-one metal storm windows. A brick chimney is located on the north end roof ridge of the rear ell.
According to Furnace Grove history, the front section of this house may date from c.1800 and the rear two-story ell from c.1890.
THIS IS THE LAST DESCRIPTION
RETURN TO MAIN PAGE