---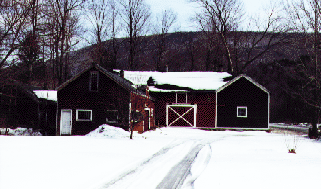 20. Carriage Barn c.1890
This vernacular, one-and-a-half story, large, clapboard carriage barn is located on the north side of Woodford Road (Rte. 9) immediately west of the stone gate to Furnace Grove. The barn has a stone and concrete foundation and an asphalt-shingled roof.
Attached to west side of the main gable roof body of the barn is a large gable end ell; a smaller gable end ell extends from the south, with a single story gable end appendage on the east side. At the rear (north), a single story passage crosses a small stone-lined brook and joins a two-bay, eaves front, gable roof garage. There are two ridge line ventilators, one on the main body and one on the west ell.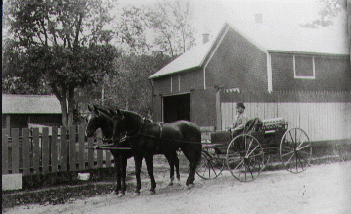 The fenestration is varied throughout the barn. There are multi-pane fixed sash stable windows on the first floor; several double hung, and louver windows on the first and second floors; several wide barn doors; several second floor loft doors; and several paneled pedestrian doors.
Horses were stabled here at the run of the century for use at Furnace Grove. It is in fair to good condition.
RETURN TO MAIN PAGE