---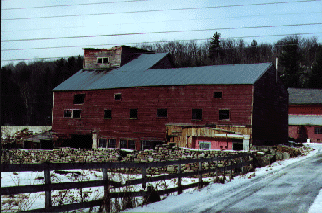 13. Barn c.1890/1940
This barn consists of a large, one-and-a-half story, gable roof bank barn main block with a stone foundation, a c.1900 flat-roofed, wooden silo on the west end, and a one-and-a-half-story, gable roof equipment shed ell on the north side.
The main block has novelty siding, metal roofing on the south facing roof, and wood shingles on the north facing roof. A small, shed roof appendage in deteriorating condition is located on the south side basement level of the main block; a row of square window openings covered with chicken wire line the facade of the first story. Elsewhere, a variety of windows and doors are placed throughout the rest of the building to allow for light and ventilation in key areas.
The ell has clapboard siding and sheet metal roofing. Fenestration includes a large bay on the east side of the ell, a sliding door on the north side, and paned and unpaned windows throughout.
The main block housed over 1,000 hens during the 1940s-1960s. Part of this barn may have been workers' housing for Furnace Grove employees. The barn is in deteriorating to poor condition.
RETURN TO MAIN PAGE