---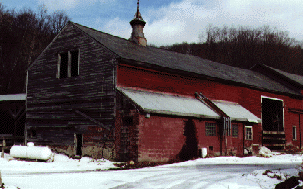 12. Barn c.1850/1960
This large, vernacular multi-part connected barn extends from east to west. In the center are two, two-story, gable roof, c.1850 eaves front barns joined together. They have a stone and concrete foundation, clapboard siding, and a slate shingled roof with a row of decorative scalloped shingles. There is a galvanized steel ventilator on the ridge line of western end. A one-story shed roof milk house addition constructed c.1960 of cinder blocks with corrugated metal roofing runs along western side of the front facade. There is a large open bay in the center, and a sliding barn door on the right that abuts the junction of the ell. These central barns have a ridge pole with a hoist, characteristic of early 19th century barns.
A c.1910, one-story ell with novelty siding and a metal roof projects from the eastern and taller of the two central barns. Two c.1960 open shed roof appendages used for hay and grain storage and cow stalls extend from the western end of the central barns. The western appendages are constructed with pole and dimension lumber and have sheet metal roofing.
These barns have irregular size window openings in various states of disrepair. This barn is in poor to good condition.
RETURN TO MAIN PAGE