Ovid: Metamorphosis
Book 1, Plate 7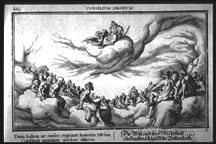 Council of the gods
Which when the king of Gods beheld from high
(Withal revolving in his memory,
What he himself had found on Earth of late,
Lycaon's guilt, and his inhumane treat),
He sigh'd; nor longer with his pity strove;
But kindled to a wrath becoming Jove:
Then call'd a general council of the Gods;
Who summon'd, issue from their blest abodes,
And fill th' assembly with a shining train.
A way there is, in Heav'n's expanded plain,
Which, when the skies are clear, is seen below,
And mortals, by the name of Milky, know.
The ground-work is of stars; through which the road
Lyes open to the Thunderer's abode:
The Gods of greater nations dwell around,
And, on the right and left, the palace bound;
The commons where they can: the nobler sort
With winding-doors wide open, front the court.
This place, as far as Earth with Heav'n may vie,
I dare to call the Louvre of the skie.
When all were plac'd, in seats distinctly known,
And he, their father, had assum'd the throne,
Upon his iv'ry sceptre first he leant,
Then shook his head, that shook the firmament:
Air, Earth, and seas, obey'd th' almighty nod;
And, with a gen'ral fear, confess'd the God.
At length, with indignation, thus he broke
His awful silence, and the Pow'rs bespoke.
I was not more concern'd in that debate
Of empire, when our universal state
Was put to hazard, and the giant race
Our captive skies were ready to imbrace:
For tho' the foe was fierce, the seeds of all
Rebellion, sprung from one original;
Now, wheresoever ambient waters glide,
All are corrupt, and all must be destroy'd.
Let me this holy protestation make,
By Hell, and Hell's inviolable lake,
I try'd whatever in the godhead lay:
But gangren'd members must be lopt away,
Before the nobler parts are tainted to decay.
There dwells below, a race of demi-gods,
Of nymphs in waters, and of fawns in woods:
Who, tho' not worthy yet, in Heav'n to live,
Let 'em, at least, enjoy that Earth we give.
Can these be thought securely lodg'd below,
When I my self, who no superior know,
I, who have Heav'n and Earth at my command,
Have been attempted by Lycaon's hand?
At this a murmur through the synod went,
And with one voice they vote his punishment.
Thus, when conspiring traytors dar'd to doom
The fall of Caesar, and in him of Rome,
The nations trembled with a pious fear;
All anxious for their earthly Thunderer:
Nor was their care, o Caesar, less esteem'd
By thee, than that of Heav'n for Jove was deem'd:
Who with his hand, and voice, did first restrain
Their murmurs, then resum'd his speech again.
The Gods to silence were compos'd, and sate
With reverence, due to his superior state.
Cancel your pious cares; already he
Has paid his debt to justice, and to me.
Yet what his crimes, and what my judgments were,
Remains for me thus briefly to declare.
The clamours of this vile degenerate age,
The cries of orphans, and th' oppressor's rage,
Had reach'd the stars: I will descend, said I,
In hope to prove this loud complaint a lye.
Disguis'd in humane shape, I travell'd round
The world, and more than what I heard, I found.
O'er Maenalus I took my steepy way,
By caverns infamous for beasts of prey:
Then cross'd Cyllene, and the piny shade
More infamous, by curst Lycaon made:
Dark night had cover'd Heaven, and Earth, before
I enter'd his unhospitable door.
Just at my entrance, I display'd the sign
That somewhat was approaching of divine.
The prostrate people pray; the tyrant grins;
And, adding prophanation to his sins,
I'll try, said he, and if a God appear,
To prove his deity shall cost him dear.
'Twas late; the graceless wretch my death prepares,
When I shou'd soundly sleep, opprest with cares:
This dire experiment he chose, to prove
If I were mortal, or undoubted Jove:
But first he had resolv'd to taste my pow'r;
Not long before, but in a luckless hour,
Some legates, sent from the Molossian state,
Were on a peaceful errand come to treat:
Of these he murders one, he boils the flesh;
And lays the mangled morsels in a dish:
Some part he roasts; then serves it up, so drest,
And bids me welcome to this humane feast.
Mov'd with disdain, the table I o'er-turn'd;
And with avenging flames, the palace burn'd.
The tyrant in a fright, for shelter gains
The neighb'ring fields, and scours along the plains.
Howling he fled, and fain he wou'd have spoke;
But humane voice his brutal tongue forsook.
About his lips the gather'd foam he churns,
And, breathing slaughters, still with rage he burns,
But on the bleating flock his fury turns.
His mantle, now his hide, with rugged hairs
Cleaves to his back; a famish'd face he bears;
His arms descend, his shoulders sink away
To multiply his legs for chase of prey.
He grows a wolf, his hoariness remains,
And the same rage in other members reigns.
His eyes still sparkle in a narr'wer space:
His jaws retain the grin, and violence of his face
This was a single ruin, but not one
Deserves so just a punishment alone.
Mankind's a monster, and th' ungodly times
Confed'rate into guilt, are sworn to crimes.
All are alike involv'd in ill, and all
Must by the same relentless fury fall.
Thus ended he; the greater Gods assent;
By clamours urging his severe intent;
The less fill up the cry for punishment.
Yet still with pity they remember Man;
And mourn as much as heav'nly spirits can.
They ask, when those were lost of humane birth,
What he wou'd do with all this waste of Earth:
If his dispeopl'd world he would resign
To beasts, a mute, and more ignoble line;
Neglected altars must no longer smoke,
If none were left to worship, and invoke.
To whom the Father of the Gods reply'd,
Lay that unnecessary fear aside:
Mine be the care, new people to provide.
I will from wondrous principles ordain
A race unlike the first, and try my skill again.
---
From here you may go to the text and image of Book 1, Plate 8, or to the complete page of Plates for Book 1, or to the Baur 1703 Title Page, or to the Ovid Title Page.