Ovid: Metamorphosis
Book 1, Plate 8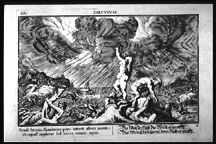 The Deluge
Already had he toss'd the flaming brand;
And roll'd the thunder in his spacious hand;
Preparing to discharge on seas and land:
But stopt, for fear, thus violently driv'n,
The sparks should catch his axle-tree of Heav'n.
Remembring in the fates, a time when fire
Shou'd to the battlements of Heaven aspire,
And all his blazing worlds above shou'd burn;
And all th' inferior globe to cinders turn.
His dire artill'ry thus dismist, he bent
His thoughts to some securer punishment:
Concludes to pour a watry deluge down;
And what he durst not burn, resolves to drown.
The northern breath, that freezes floods, he binds;
With all the race of cloud-dispelling winds:
The south he loos'd, who night and horror brings;
And foggs are shaken from his flaggy wings.
From his divided beard two streams he pours,
His head, and rheumy eyes distill in show'rs,
With rain his robe, and heavy mantle flow:
And lazy mists are lowring on his brow;
Still as he swept along, with his clench'd fist
He squeez'd the clouds, th' imprison'd clouds resist:
The skies, from pole to pole, with peals resound;
And show'rs inlarg'd, come pouring on the ground.
Then, clad in colours of a various dye,
Junonian Iris breeds a new supply
To feed the clouds: impetuous rain descends;
The bearded corn beneath the burden bends:
Defrauded clowns deplore their perish'd grain;
And the long labours of the year are vain.
Nor from his patrimonial Heaven alone
Is Jove content to pour his vengeance down;
Aid from his brother of the seas he craves,
To help him with auxiliary waves.
The watry tyrant calls his brooks and floods,
Who rowl from mossie caves (their moist abodes);
And with perpetual urns his palace fill:
To whom in brief, he thus imparts his will.
Small exhortation needs; your pow'rs employ:
And this bad world, so Jove requires, destroy.
Let loose the reins to all your watry store:
Bear down the damms, and open ev'ry door.
The floods, by Nature enemies to land,
And proudly swelling with their new command,
Remove the living stones, that stopt their way,
And gushing from their source, augment the sea.
Then, with his mace, their monarch struck the ground;
With inward trembling Earth receiv'd the wound;
And rising streams a ready passage found.
Th' expanded waters gather on the plain:
They float the fields, and over-top the grain;
Then rushing onwards, with a sweepy sway,
Bear flocks, and folds, and lab'ring hinds away.
Nor safe their dwellings were, for, sap'd by floods,
Their houses fell upon their houshold Gods.
The solid piles, too strongly built to fall,
High o'er their heads, behold a watry wall:
Now seas and Earth were in confusion lost;
A world of waters, and without a coast.
One climbs a cliff; one in his boat is born:
And ploughs above, where late he sow'd his corn.
Others o'er chimney-tops and turrets row,
And drop their anchors on the meads below:
Or downward driv'n, they bruise the tender vine,
Or tost aloft, are knock'd against a pine.
And where of late the kids had cropt the grass,
The monsters of the deep now take their place.
Insulting Nereids on the cities ride,
And wond'ring dolphins o'er the palace glide.
On leaves, and masts of mighty oaks they brouze;
And their broad fins entangle in the boughs.
The frighted wolf now swims amongst the sheep;
The yellow lion wanders in the deep:
His rapid force no longer helps the boar:
The stag swims faster, than he ran before.
The fowls, long beating on their wings in vain,
Despair of land, and drop into the main.
Now hills, and vales no more distinction know;
And levell'd Nature lies oppress'd below.
The most of mortals perish in the flood:
The small remainder dies for want of food.
A mountain of stupendous height there stands
Betwixt th' Athenian and Boeotian lands,
The bound of fruitful fields, while fields they were,
But then a field of waters did appear:
Parnassus is its name; whose forky rise
Mounts thro' the clouds, and mates the lofty skies.
---
From here you may go to the text and image of Book 1, Plate 9, or to the complete page of Plates for Book 1, or to the Baur 1703 Title Page, or to the Ovid Title Page.