Ovid: Metamorphoses
Book 10, Plate 94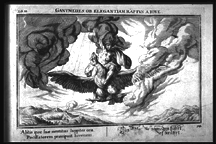 (Ganymede)
The King of Gods once felt the burning joy,
And sigh'd for lovely Ganimede of Troy:
Long was he puzzled to assume a shape
Most fit, and expeditious for the rape;
A bird's was proper, yet he scorns to wear
Any but that which might his thunder bear.
Down with his masquerading wings he flies,
And bears the little Trojan to the skies;
Where now, in robes of heav'nly purple drest,
He serves the nectar at th' Almighty's feast,
To slighted Juno an unwelcome guest.
From here you may go to the text and image of Book 10, Plate 95, or to the complete page of Plates for Book 10, or to the Baur 1703 Title Page, or to the Ovid Title Page.