Ovid: Metamorphoses
Book 10, Plate 95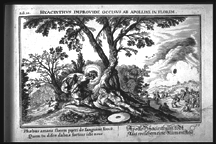 Hyacinthus transform'd into a Flower
Phoebus for thee too, Hyacinth, design'd
A place among the Gods, had Fate been kind:
Yet this he gave; as oft as wintry rains
Are past, and vernal breezes sooth the plains,
From the green turf a purple flow'r you rise,
And with your fragrant breath perfume the skies.
You when alive were Phoebus' darling boy;
In you he plac'd his Heav'n, and fix'd his joy:
Their God the Delphic priests consult in vain;
Eurotas now he loves, and Sparta's plain:
His hands the use of bow and harp forget,
And hold the dogs, or bear the corded net;
O'er hanging cliffs swift he pursues the game;
Each hour his pleasure, each augments his flame.
The mid-day sun now shone with equal light
Between the past, and the succeeding night;
They strip, then, smooth'd with suppling oyl, essay
To pitch the rounded quoit, their wonted play:
A well-pois'd disk first hasty Phoebus threw,
It cleft the air, and whistled as it flew;
It reach'd the mark, a most surprizing length;
Which spoke an equal share of art, and strength.
Scarce was it fall'n, when with too eager hand
Young Hyacinth ran to snatch it from the sand;
But the curst orb, which met a stony soil,
Flew in his face with violent recoil.
Both faint, both pale, and breathless now appear,
The boy with pain, the am'rous God with fear.
He ran, and rais'd him bleeding from the ground,
Chafes his cold limbs, and wipes the fatal wound:
Then herbs of noblest juice in vain applies;
The wound is mortal, and his skill defies.
As in a water'd garden's blooming walk,
When some rude hand has bruis'd its tender stalk,
A fading lilly droops its languid head,
And bends to earth, its life, and beauty fled:
So Hyacinth, with head reclin'd, decays,
And, sickning, now no more his charms displays.
O thou art gone, my boy, Apollo cry'd,
Defrauded of thy youth in all its pride!
Thou, once my joy, art all my sorrow now;
And to my guilty hand my grief I owe.
Yet from my self I might the fault remove,
Unless to sport, and play, a fault should prove,
Unless it too were call'd a fault to love.
Oh cou'd I for thee, or but with thee, dye!
But cruel Fates to me that pow'r deny.
Yet on my tongue thou shalt for ever dwell;
Thy name my lyre shall sound, my verse shall tell;
And to a flow'r transform'd, unheard-of yet,
Stamp'd on thy leaves my cries thou shalt repeat.
The time shall come, prophetick I foreknow,
When, joyn'd to thee, a mighty chief shall grow,
And with my plaints his name thy leaf shall show.
While Phoebus thus the laws of Fate reveal'd,
Behold, the blood which stain'd the verdant field,
Is blood no longer; but a flow'r full blown,
Far brighter than the Tyrian scarlet shone.
A lilly's form it took; its purple hue
Was all that made a diff'rence to the view,
Nor stop'd he here; the God upon its leaves
The sad expression of his sorrow weaves;
And to this hour the mournful purple wears
Ai, Ai, inscrib'd in funeral characters.
Nor are the Spartans, who so much are fam'd
For virtue, of their Hyacinth asham'd;
But still with pompous woe, and solemn state,
The Hyacinthian feasts they yearly celebrate.
The Transformations of the Cerastae and Propoetides
Enquire of Amathus, whose wealthy ground
With veins of every metal does abound,
If she to her Propoetides wou'd show,
The honour Sparta does to him allow?

Nor more, she'd say, such wretches wou'd we grace,
Than those whose crooked horns deform'd their face,
From thence Cerastae call'd, an impious race:
Before whose gates a rev'rend altar stood,
To Jove inscrib'd, the hospitable God:
This had some stranger seen with gore besmear'd,
The blood of lambs, and bulls it had appear'd:
Their slaughter'd guests it was; nor flock nor
herd.
Venus these barb'rous sacrifices view'd
With just abhorrence, and with wrath pursu'd:
At first, to punish such nefarious crimes,
Their towns she meant to leave, her once-lov'd
climes:
But why, said she, for their offence shou'd I
My dear delightful plains, and cities fly?
No, let the impious people, who have sinn'd,
A punishment in death, or exile, find:
If death, or exile too severe be thought,
Let them in some vile shape bemoan their fault.
While next her mind a proper form employs,
Admonish'd by their horns, she fix'd her choice.
Their former crest remains upon their heads,
And their strong limbs an ox's shape invades.
The blasphemous Propoetides deny'd
Worship of Venus, and her pow'r defy'd:
But soon that pow'r they felt, the first that sold
Their lewd embraces to the world for gold.
Unknowing how to blush, and shameless grown,
A small transition changes them to stone.
From here you may go to the text and image of Book 10, Plate 96, or to the complete page of Plates for Book 10, or to the Baur 1703 Title Page, or to the Ovid Title Page.