Place-Based Learning
Land-Use History of Potash Brook: Rice Memorial High School
With a grant from EPSCoR Center for Workforce Development and Diversity at Saint Michael's College, a team of two sophomores, George and Miranda, and their history teacher Mrs. Sarah Smith Conroy, had the opportunity to study the changes in land use along Potash Brook. The group spent the summer of 2012 studying deeds, maps and related filings in the public records of South Burlington (City Clerk Donna Kinville and others in the Clerk's office were incredibly helpful in this study). They unlocked dozens of primary documents held in the Special Collections and Map Departments at the University of Vermont, and spent some time interviewing residents and recording oral histories.
RACC is a program sponsored by the Vermont EPSCoR Center for Workforce Development and Diversity at Saint Michael's College. George, Miranda, and Mrs. Conroy worked in conjunction with 18 other teacher/student groups from Vermont, New York and Puerto Rico. While the other groups, including the other Rice High School Team (headed by the Chairperson of the Rice High School Science Department Mrs. Sharon Boardman), focused their studies on water quality, George and Miranda were tasked with the related study of changing land use over time.
When George and Miranda set out on their investigation, they started with this mission statement: "Through conducting this research, we hope to continue the study of land use history. We hope that in bringing to light some of the changes the land around Potash Brook has undergone we have drawn attention to our ever-changing landscape and the impact humans have on the world."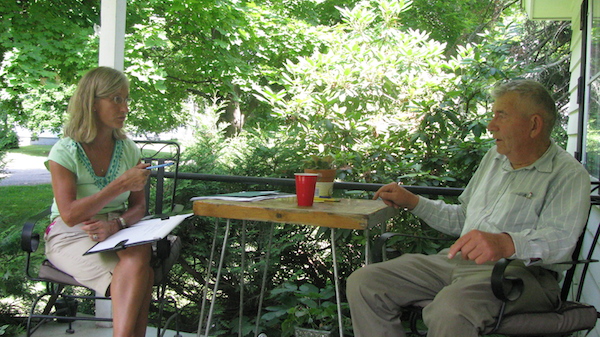 Their method was working by what can be called the "cascade method." Their extensive research began with a single phone call and an appointment for an interview. The first person they talked to was South Burlington resident Mr. Irish, and from there, they began to piece together the history. Mr. Irish provided George and Miranda with numerous family names to look into. With each name there always came an assortment of documents, often times old maps, and at least three other family names to research. Over the months, they accumulated a plethora of information on several families. Starting from square one with minimal knowledge about the history of the land surrounding Potash Brook, the team successfully researched the area.
In the end, George, Miranda and Mrs. Conroy realized that the process is never-ending, and that people who enjoy studying cultural and natural history (namely the people visiting this websit) preserv oral history, can help in preserving oral history in order to "keep the ball moving."
The group would like to acknowledge and thank the following individuals for their contributions and partnership on the project, without which the project would not have been such a success:
Argie Economou
Palmer Irish
Donna Kinville - City Clerk, South Burlington Clerk's Office
Dr. Paul Bierman - University of Vermont, Landscape Change Program
Richard Kujawa - Saint Michael's College
EPSCoR Staff
Lori Pilus - Assistant City Clerk, South Burlington Clerk's Office
Mary Borg - Staff Attorney, Watershed Management, Vermont Agency of Natural Resources