Place-Based Learning
Envisioning the Waterfront: Burlington High School
For one of the first Year-End Studies (YES) courses offered at Burlington High School in June of 2012, teacher Dov Stucker led an intrepid group of students in a course "Envisioning the Waterfront." Through this course, the students met with many city planners, non-profit leaders, conservationists, and city government officials (including the mayor of Burlington) to understand the complex history and nature of Burlington's waterfront.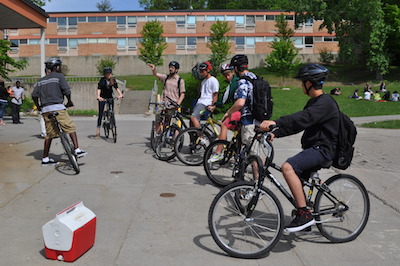 Traveling mostly on foot and bicycle this group set out to understand the long history of the waterfront before beginning their own journey to envision how it could possibly be used in the future. This was a perfect opportunity to use the Burlington Geographic resources to understand the cultural and natural history of the Waterfront. In collaboration with staff and graduate students associated with the PLACE Program, the Burlington High School group met in the field and on UVM campus to uncover this history. The course began with open exploration of the area to generate questions that they would later investigate on their own through use of Burlington Geographic materials and conversations within the community.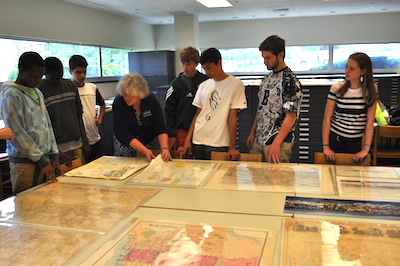 After the first day of field explorations, students shared that they learned things they never would have know to be true before - that the waterfront was built from fill, that the lumber industry contributed immensely to the waterfront economy in the 19th century and later on the waterfront was once covered in oil drums, the scars of which can still be seen today. Students shared their next thoughts and questions about why the lumber industry died out, where the concrete and tile "ruins" in the urban reserve area came from, and what were the new plans for the waterfront?" In search of answers to some of these questions, the group visited the UVM archives to pour over old maps and photos of the waterfront. This added another layer to their field explorations and proved to be a key part in their understanding of the cultural and natural history of the waterfront.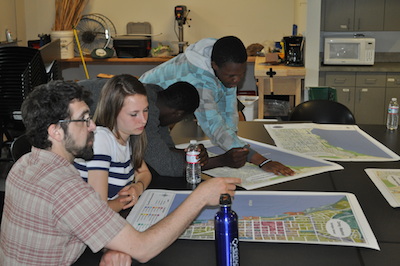 Their next step in planning their own proposal for the future of the waterfront was to meet with some key decision-makers within the city government, as well as some visionaries who were already crafting their own proposal for the Moran Plant. Staff from the PLACE Program set up a meeting for the students with UVM undergraduates Tad Cooke and Erick Crockenberg, who at the time were preparing their proposal for new usage of the historic, yet dilapidated, Moran Plant (since this time, their proposal for New Moran has been accepted and is moving forward). Taking what they learned during the first week of the course, they then prepared a brief for the mayor's office on the criteria they felt were important in considering future development along the waterfront.