The Nicholson House
41 South Prospect Street
By Katharine Burns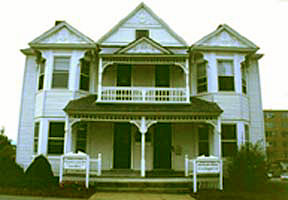 The Nicholson House was built contemporaneously to the Benedict House, although one would have to ply away several layers of "improvements" in order to understand the common language of these two buildings. The late 19th century enlargements were executed with a Queen Anne veneer and nearly dwarf the old structure. As Margaret Hazen Muller and David Blow observed in Look Around Burlington, Vermont, "the difference it that one retained its youthful figure and the other grew gross!"(1)
Listed on the National Register, the house was built by Italian Dr. John Perrigo prior to 1812. (2) Upon his death in 1850, the house was occupied by a succession of UVM professors, including its namesake, Professor George Nicholson. Lucy Ann Abbott and L. M. Abbott resided here from 1875 to 1881, which explains why the house is referred to as the Abbott House in the Muller and Blow publication. During their occupancy, the rear of the property housed gardens and orchards, quite a contrast to the parking lot which now decorates the site(3).
William H. Hart, president of the Vermont Life Insurance Company, held the title in the 1880s, and he in turn sold it to Albert Richardson in 1893.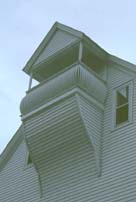 Richardson, a local businessman, was responsible for the massive alterations done to the house. He "stylistically updated" the house in the Queen Anne style, and greatly enlarged its massing in order to accommodate two families. Although the alterations resulted in a totally different building, it is relatively simple to decipher the original portions.
Another round of modernizing occurred in 1974, when UVM applied aluminum siding over the building it acquired in 1913. One architectural feature, however, has elicited praise from those who venture to the back of the house. Muller and Blow describe the rear gable balcony (shown on the right) as a "compensation" in which "the clutter becomes more charming and whimsical-even delightful."(4)
Sources
(1) Lilian Baker Carlisle, ed. Look Around Burlington, Vermont (Burlington, Vermont: Chittenden County Historical Society, 1972), 3.
(2) David Blow, Historic Guide to Burlington Neighborhoods. Vol 1. (Burlington, Vermont: Chittenden County Historical Society, 1991), 169.
(3) Carlisle, 4.
(4) Ibid.
BITTERSWEET
Introduction | 1830 Young map | 1830-1988 overlay maps | Street index | Surviving 1830 buildings | UVM Historic Preservation Program