Spotlight on the Sociology Department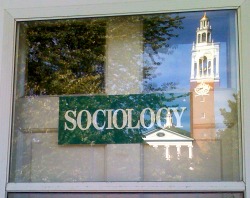 Sociology continues to be a productive and popular department with a collection of first-rate teacher-scholars. The Department's roots go back to the nineteenth century: in 1889, UVM's Samuel Franklin Emerson may have been the first academic anywhere to have "Professor of Sociology" in his title. And today, the Department continues to forge new ground, with research on topics like environmentalism, mixed race individuals, and the internet. And our students continue to go on to successful careers in academia, politics, medicine, and more. The Department's cutting-edge intellectual work goes hand-in-hand with its engagement with the community, the State, and the global society. As Prof. Moustapha Diouf put it upon taking a senior position in the government of Senegal, "The best way you can really improve your scholarship in terms of theory is to have a praxis in the field, hands on." "Applied" work and high-level scholarship, we believe, are not mutually exclusive, but complementary.

Some Department Strengths

Social inequality, quite recently the subject of headlines across the country, has long been a focus of our research and teaching. Dan Krymkowski, recently working with Beth Mintz, has made a career of applying quantitative techniques to some of the thornier questions of proof and specificity regarding the core question of "who gets ahead?" Thomas Macias, Nikki Khanna, and Katrinell Davis in recent years have added a focus on intersectionality to the question, i.e., on ways that various social categories intersect in the production and reproduction of inequality and identity: Macias has published on the Mexican-American experience across class divides and Khanna on the shifting social categorization of mixed race individuals. Davis is working on a book that explores the intersections of race, gender, and class among women in working class jobs. Instructors Burke and Matsumoto, who have joint appointments with GSWS and ALANA US Ethnic Studies respectively, are expanding the Department's work in intersectionality with their research on, respectively, sexual identity and Asian immigration.

Gerontology: A perhaps lesser known strength of the Department concerns gerontology, aging, and end-of-life care. The Bishop Joyce Distinguished University Chair in Gerontology (currently empty) was occupied by Prof. Stephen Cutler from 1984 until his retirement in 2009. Cutler, working with other faculty over the years, made our Department a center for the study of aging at UVM and in the State, and this tradition is currently carried on by Professors Danigelis and Jaffe, and Senior Lecturer Cowan. Brookes Cowan, notably, has been a key advocate, chronicler, and organizer of the hospice movement that transformed end-of-life care in the Western world, and in the process became an associate of Elisabeth Kubler-Ross, attending to the last two weeks of Kubler-Ross's life. All of these faculty in their teaching and research have played key roles in the study of aging across UVM, in launching numerous careers, and in cultivating a deeper understanding of these parts of human existence.

Social Justice: It also needs be said that the Department has a distinctive commitment to social justice. Faculty have conducted research and served in various positions intended not just to ameliorate human suffering, but also to improve social conditions overall. One unique expression of this is that several faculty members have worked with Bernie Sanders over the decades, beginning with his first mayoral campaign in 1980 and since then in various projects with the City of Burlington and the State of Vermont. Upon the death of former Sociology Chair Frank Sampson, Sanders said, "I remember Frank not only as an outstanding academic and intellectual, but as someone who was determined to use this knowledge and skills outside of the classroom in order to make this world a better place for all. Frank . . . helped build one of the most Progressive and successful political movements in the country." Senator Sanders has been a recurrent visitor to classes and to our annual awards ceremony.

Engaged Scholarship and Research: The Department continues to be a leader in effectively combining teaching, research, and work for the community to great effect. For example, in a unique collaboration with the Vermont Department of Corrections, four Sociology faculty and roughly two dozen Sociology students recently completed a two-year project studying the impact of incarceration on families. Beginning under Alice Fothergill, students in Sociology's Service Learning Internship seminar visited and worked in prisons throughout Vermont and, with the help of Professors Nicholas Danigelis and Jenn Strickler and their methods students, designed surveys and interviewed prisoners. Another group of students continued the project under the tutelage of Kathy Fox, where they also worked in the prisons, conducted the survey, and developed a final presentation of the research to the VTDOC. A letter of thanks from the Department of Corrections noted, "we don't know of any other state that has done such a survey with their inmate population . . . . The significance of this project is immeasurable."

Faculty News: A Sampler

Books: Four new faculty books have been released of late. Tom Streeter's book on the internet, The Net Effect, came out in early 2011 from NYU Press. Later that same year, Nikki Khanna's Biracial in America: Forming and Performing Racial Identity was published (the paperback was reprinted in 2013), as was Prof. Kaelber's co-edited Kindermord und "Kinderfachabteilungen" im Nationalsozialismus: Gedenken und Forschung (Child Murder and "Special Children's Wards" in National Socialism: Commemoration and Research). The second edition of Prof. Fothergill's co-edited Social Vulnerability to Disasters was released in 2013.
Katrinell Davis, Assistant Professor, returned last fall from a two-year Postdoctoral Fellowship in the Research and Training Program in Poverty and Public Policy at the National Poverty Center, Gerald R. Ford School of Public Policy, University of Michigan. The National Poverty Center is one of the top research centers on poverty and public policy in the U.S., whose goal is promote high-quality research on the causes and consequences of poverty, evaluate and analyze policies to alleviate poverty, and train the next generation of poverty researchers. Prof. Davis is working on a multi-method study of working class women since deindustrialization, based on data about African-American women in the transit industry covering several decades.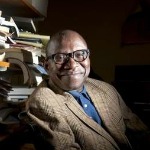 Moustapha Diouf, Associate Professor of Sociology, has long wanted to help improve the quality of life of the people of his native country of Senegal. He will get the chance as the newly appointed special adviser to the prime minister of Senegal and president of the Millenium Challenge Account (MCA) -- a $540 million foreign development project funded by the United States. Diouf, who became friends with the new Prime Minister Aminata Toure while working on a master's degree in rural sociology at the University of Paris in the early 1980s, turned down previous job offers from Senegal officials, wanting to be in a position to have more of an impact on the economic development of the West African country. The addition of the powerful MCA position was exactly what he had in mind. "They had been trying to lure me with the special adviser role, but the addition of the MCA position gives me more power vis-à-vis the U.S. government and how the $540 million will be spent," said Diouf to the Burlington Free Press. "The prime minister and I have shared the same dream for many years and are now in a position to realize that dream together."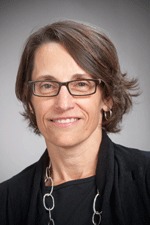 Prof. Kathy Fox recently returned from a Fulbright Senior Scholar semester in New Zealand, where she studied offender reintegration and the use of restorative justice process in the criminal justice systems of Vermont and NZ. She gave talks at Victoria University in Wellington, at the New Zealand Dept. of Corrections, at a NZ conference on restorative justice, and at Fulbright New Zealand. She recently published two new articles: (2013) "Incurable Sex Offenders, Lousy Judges & the Media: Moral Panic Sustenance in the Age of New Media," American Journal of Criminal Justice, vol. 38, No. 1, pp. 160-181. (2012) "Redeeming Communities: Restorative Offender Reentry in a Risk Society," Victims & Offenders, vol. 7, No. 1, pp. 97-120. She will report on some of her work in a talk sponsored by the Center for Research on Vermont on Tuesday, February 25, 2014 in Memorial Lounge at 7:00 pm.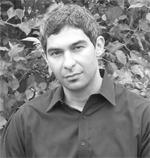 Prof. Thomas Macias: "Know your Neighbors, Save the Planet." The old adage "it's not what you know but who you know" nicely describes the power of what sociologists call "social capital," i.e., the network of connections that shape a person's life. Prof. Macias, working with graduate student Kristin Williams, has been pioneering research into whether "who you know" can shape attitudes and behaviors towards the environment. Using 2010 General Social Science data, they have produced a series of papers that have been presented at conferences and submitted to journals.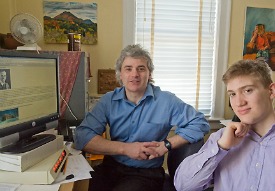 Professor Lutz Kaelber's work on the history of eugenics in Europe and the U.S. continues to gain attention in the press and among policymakers and activists. Because of his ongoing work on both Nazi and U.S. eugenics efforts, including forced sterilizations in Vermont in the 1920s and in North Carolina up into the 1960s, in 2013 Kaelber has been approached for information and interviews by BBC America, Al Jazeera America, Russia Today, WCAX, and the Rocky Mountain Down Syndrome Association, as well as a journalist contributing to the New Yorker's Elements blog and an individual working for the Catholic Charities West Virginia.