Spotlight on the English Department

In July 2009, I took over as chair of the English Department following Loka Losambe's decision to step down after a successful three-year period serving in this position. During my tenure as chair, I simply tried to continue the fine legacy he had established. However, I quickly learned that chairing one of the largest and most diverse departments at UVM is a daunting task. I have spent, for example, the past three consecutive Octobers doing little more than preparing Green Sheets. While I am proud of my colleagues who have won tenure and promotions to full professor and senior lecturer, I am also delighted at the prospect of spending October 2012 performing a different kind of writing. I am, however, leaving the department in very capable hands, as Valerie Rohy will serve as our next chair beginning in July 2012.
The department made two new hires during my chairmanship. Sarah Alexander was hired in 2010 to teach Dickens and the British Victorian novel. She is currently writing a book that addresses the ways in which nineteenth-century fiction used scientific concepts—in particular, now-abandoned notions of "imponderable matter," a form of matter that they believed was weightless and invisible—to reflect on social conflicts arising from industrialization and capitalist economy.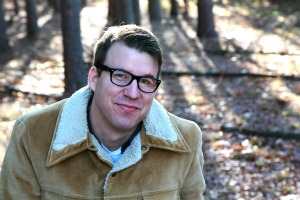 After a successful search this past year, the department hired Kevin Moffett (pictured at left) as an assistant professor of creative writing. Kevin is an accomplished fiction writer whose publications include Permanent Visitors (University of Iowa Press, 2006) and Further Interpretations of Real-Life Events (Harper Perennial, 2012). In addition, former UVM President Daniel Mark Fogel has joined the department, bringing to our students his knowledge of nineteenth- and twentieth-century American and British literatures as well as creative writing.
The English Department faculty is remarkably prolific. Since 2010, their books include Emily Bernard's Carl Van Vechten and the Harlem Renaissance: A Portrait in Black and White (Yale University Press, 2012); Liz Fenton's Religious Liberties: Anti-Catholicism and Liberal Democracy in U.S. Literature and Culture, 1774-1890 (Oxford University Press, 2011); Major Jackson's Holding Company: Poems (Norton, 2010); Eric Lindstrom's Romantic Fiat: Demystification and Enchantment in Lyric Poetry (Palgrave Macmillan, 2011); Tony Magistrale's Stephen King: America's Storyteller (Praeger, 2010) and The Last Soldiers of Love (Literary Laundry Press, 2012); Sarah Nilsen's Projecting America, 1958: Film and Cultural Diplomancey at the Brussels World's Fair (McFarland, 2011). Todd McGowan published Out of Time: Desire in Atemporal Cinema (University of Minnesota Press, 2011) and has three additional books under contract.
Hyon Joo Yoo has secured a contract for Cinema at the Crossroads: Nation and the Subject in East Asian Cinema (Rowan and Middlefield, forthcoming 2012). Helen Scott was the co-editor, with Paul Le Blanc, of Socialism or Barbarism: A Rosa Luxemburg Anthology (Pluto, 2010); and she and Loka Losambe, with Maureen Eke, edited Literature, the Visual Arts and Globalization in Africa and its Diaspora (Africa World Press, 2011). Daniel Mark Fogel and Elizabeth Malson-Huddle edited Precipice or Crossroads?--Where America's Great Public Universities Stand and Where They Are Going Midway through Their Second Century (SUNY Albany Press, forthcoming 2012); this project, along with a related symposium that UVM will host in October, is supported by a $30,000 NEH grant received in the spring of 2011.
Emeriti faculty of the department also continue to remain active: former chair James Howe's self-published memoir Making Peace with Paradise appeared in 2011, and another former chair, Tony Bradley, published Imagining Ireland in the Poems and Plays of W.B. Yeats (Palgrave, 2012). David Huddle's novel Nothing Can Make Me Do This (Tupelo, 2012) was recently published, and Bill Stephany continues to work with school teachers studying Dante; in summer 2011, his NEH seminar met in Siena, Italy.
In recent tenure and promotion reviews, Sarah Nilsen was tenured and promoted to Associate Professor; Major Jackson, Valerie Rohy, and Greg Bottoms were promoted to Full Professor. Sarah Turner was likewise promoted to Senior Lecturer. In grants and awards, Sarah Alexander and Steve Schillinger were nominated for Kroepsch-Maurice Excellence in Teaching Awards; Tony Magistrale was named University Scholar in 2010-11; Emily Bernard won a 2010 NAACP Image Award for Michelle Obama: The First Lady in Photographs (with Deborah Willis; Norton, 2009). Loka Losambe was elected President of the African Literature Association for 2011-2012 after previously serving as Vice President in 2010-2011. Nancy Welch was awarded a residency at the Vermont Studio Center, Johnson, VT, in 2010; and she won the 2011 Richard Ohmann Award for Outstanding Article in College English, for "'We're Here and We're Not Going Anywhere': Why Working-Class Rhetorical Traditions Still Matter."
Department members also remain actively involved in local and national politics. Philip Baruth, who received the Dean's Lecture Award 2010, is now in his second year as a Vermont state senator. Huck Gutman continues to serve as Chief of Staff for Vermont Senator Bernie Sanders, and occasionally sends out commentaries on poetry to a large email list of friends and acquaintances.
Ongoing activities such as the Buckham Overseas Program at University of Kent and annual events like the FTS and English Majors' Barbecue, Painted Word poetry series, American Shakespeare Company performance, and Tolkien conference keep all of us busy. Our M.A. program welcomed a strong incoming class in fall 2011 and found the number of applications up significantly for fall 2012. We also celebrated graduate program alumni's successes in admission to Ph.D. programs at McGill, West Virginia University, and the University of Minnesota. The unprecedented number of six current students presented their research at the Popular Culture Association/American Culture Association conference this April in Boston. And we were happy to see Jason Clemence, a former M.A. student in the department who is now in the Ph.D. program at Tufts University, return to UVM as a lecturer in Film and Television Studies. FTS continues to grow, with ever more majors and increasing autonomy as an official university program.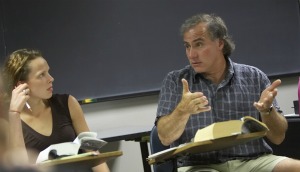 As I look back on my tenure as chair, perhaps the best part of it was helping to foster the progress of such a productive faculty. The department has maintained its vibrancy, and continues to grow: we have over 500 majors in English, 150 majors in the Film and Television Studies program, and over a hundred minors each in both FTS and English. I am also grateful to have worked with such a fine front-office staff: Katherine Layton, Justin Griffing, and Tilza Buschner were not only integral to any of the success I managed as departmental chair, they were also crucial to making the work fun. So, while I'm a little wistful about leaving my current role, I'm also thankful to be returning to my job as a faculty member in a department that is as good and as friendly as English.
--Tony Magistrale